Wrongful Death Attorney in GA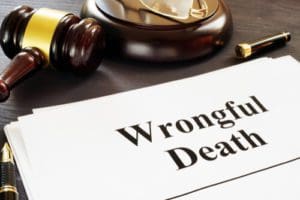 Georgia Wrongful Death Attorney
The loss of someone close is always difficult to deal with, no matter what the circumstances. But when a loved one is killed in an accident that could have been prevented, it can feel beyond devastating. The plans you made, the support you relied on, and the care you needed can vanish in an instant.
At Weaver Law Firm, we know how painful the loss of a loved one can be. For more than 20 years, we've helped families who have lost loved ones in serious accidents that should never have happened. Our Georgia wrongful death lawyers are committed to helping survivors demand justice and financial compensation after the tragic loss of a loved one.
If you've lost someone in an accident in Gainesville, Cumming, Murrayville, or elsewhere in North Georgia, talk with us about how we can help. Call us or contact us online today for a free consultation with a knowledgeable Georgia wrongful death lawyer.
Who Can File a Wrongful Death Lawsuit in Georgia?
Georgia law lays out who has the right to bring a wrongful death lawsuit after an accident. Under the law, there may be several individuals who could file suit depending upon the circumstances:
The first person who could bring a lawsuit is a surviving spouse. The spouse must also represent the interest of any children the couple had.
If there is no spouse, then the deceased's adult children could bring suit.
If there is no spouse or children, then a parent of the deceased may be able to bring a claim.
If there is no immediate family member entitled to bring a wrongful death claim, then the administrator or executor of the deceased's estate may bring a claim.
If you're wondering about your rights after a loved one's passing, contact a wrongful death lawyer in Georgia today. Our compassionate legal team can review your case, answer your questions, and explain your options in a free consultation.
What Do You Have to Prove in a Wrongful Death Case?
In a wrongful death claim, you'll need to show that someone else was negligent and that person's actions resulted in your loved one's death. For example, if someone was driving while intoxicated and caused a fatal accident, then the driver could be held liable in a wrongful death case.
Every wrongful death case is unique. You will need a skilled Georgia wrongful death lawyer to investigate the details of your case and help you assess your options for demanding justice. Content our wrongful death law firm today to learn about your legal rights in a free consultation.
What Can You Be Compensated for in a Wrongful Death Claim?
At Weaver Law Firm, we understand that no amount of money can make up for what your family has been through. However, compensation in a wrongful death claim exists to help people move forward after an accident by providing the support and resources they need. Wrongful death compensation can help those left behind take care of expenses, bills, and other important costs.
Under a wrongful death claim, you could pursue compensation for:
Medical costs related to your loved one's care and treatment before they passed away
Any pain and suffering your loved one experienced because of their injuries
The loss of the wages and support they could have provided
The loss of their companionship and aid they gave to those around them
Final costs relating to their burial or funeral
Georgia Statute of Limitations on Wrongful Death
The wrongful death statute of limitations in Georgia states that you typically need to bring a lawsuit within two years of someone passing away. While some exceptions apply, it's good to talk with a knowledgeable Georgia wrongful death attorney as soon as possible about the specifics of your case.
Common Causes of Wrongful Death
Some of the leading causes of wrongful death in Georgia include:
Bicycle accidents
Accidents on dangerous property
No matter the circumstances of your loved one's passing, if you believe someone else was to blame, you should seek legal advice. Contact a wrongful death attorney from Weaver Law Firm now for a free and confidential case review.
How a Georgia Wrongful Death Attorney Can Help You
If you have questions about bringing a wrongful death claim, an attorney from our firm can help you through the process. We can:
Answer your questions and explain your legal rights in detail
Take the pressure off you by handling the paperwork and calls your claim may need
Identify and gather important evidence
Work with experts to understand the accident and the losses you are experiencing
Explore all potential sources for wrongful death compensation
Advocate for you and those who passed away in any settlement negotiations
Fight for you in court if those who caused the accident cannot or will not provide the compensation you deserve
If you have lost a loved one in an accident that could have been prevented, contact Weaver Law Firm today. Our experienced Georgia wrongful death lawyers have a long track record of standing strong for families, and we are here to help you.
Our law firm serves families in Gainesville, Cumming, Murrayville, and the surrounding areas of North Georgia. Our local attorneys can meet with you in person or over the phone ─ whatever is most convenient for you. For a free consultation, call us or contact us online today.