Georgia Personal Injury Law Firm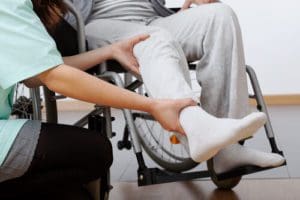 Georgia Personal Injury Lawyer
Being injured in an accident can be overwhelming and stressful. Especially when someone else was to blame for your accident, you may feel frustrated that you are left with a pile of medical bills and other financial hardships that could have been avoided. All this can be complicated by insurance companies that try to give you the runaround or push you to settle for less than you deserve. Call us if you are looking for the best personal injury law firm in Northern GA.
For more than 20 years, Weaver Law Firm has been fighting for the rights of accident victims in Gainesville, Cumming, Murrayville, and throughout North Georgia. Our personal injury attorneys have the skills and the resources to demand full compensation for people who have suffered life-altering injuries.
With a long track record of recovering maximum payment for accident victims, our Georgia personal injury attorneys are ready to help you. For a free consultation about your case, call us or contact us online today.
What Do You Have to Prove in a Personal Injury Claim?
When you're pursuing a Georgia personal injury case, you'll need to show that someone else's negligence caused you harm. For example, if you were driving down the road and a drunk driver hit you, then you could have a personal injury claim against the driver. The same goes for situations like slipping and falling at a business when the property owner failed to maintain the floors. When someone else is responsible for your safety and could have prevented the accident, you may be able to pursue compensation for your losses through a personal injury claim.
Common Types of Personal Injury Cases We Handle
When you're coping with a personal injury, you need a local law firm that has the experience, resources, and connections to help. Our dedicated personal injury attorneys have successfully handled many types of claims involving:
Bus accidents
Bicycle accidents
Train accidents
Dog bites or animal attacks
Construction accidents
If you have questions about your legal rights after an accident, contact our Georgia personal injury law firm today. Our attorneys can review your case for free and answer all your questions.
How Much Is Your Personal Injury Case Worth?
After an accident, the value of your case will depend on the unique facts of your situation. Some of the common types of compensation that may be available include:
Medical treatment costs, as well as anticipated future medical expenses
Lost wages and lost income
Lost earning capacity for the future
Pain and suffering
Loss of consortium (for your spouse)
No one can tell you right from the start how much your personal injury case is worth. It will take time to evaluate your losses and understand how your injuries will affect you in the long run. You should never rush to a personal injury settlement. Instead, let our Georgia personal injury law firm conduct a thorough evaluation of your losses and demand the full compensation you need to recover.
How Long Do You Have to File a Personal Injury Lawsuit in Georgia?
In Georgia, you typically have two years from the date of the accident to file your personal injury lawsuit. If someone passes away due to injuries, you typically have two years from the date of death to bring a wrongful death lawsuit. Remember that while there are some exceptions to these rules if you fail to bring a lawsuit within the legally allowed time, then a court may dismiss your case.
Common Types of Catastrophic Injuries
Accidents can lead to major injuries that can transform your life. Some common types of catastrophic injury cases that our firm handles include:
Broken bones
Blunt trauma
Head injuries
Amputations
Scarring and disfigurement
Personal Injury FAQs
It's understandable that you have a long list of questions about your legal rights after an accident. Our Georgia personal injury lawyers are here to help you get answers.
Personal Injury
If you are partly at fault for your injury, your compensation may be reduced by the percentage of your responsibility. For example, if you were injured in an accident and were found to be 10% at fault, then your compensation could be reduced by 10%. So, if your damages are $100,000, your payment would be reduced by $10,000. Further, if you were 50% or more responsible for the accident, you may not be able to obtain compensation at all.
Our experienced attorneys can investigate your accident to show exactly who was at fault. We will also stand up for you when insurance companies try to shift the blame to reduce your compensation or deny your claim.
If an adjuster contacts you, you can direct them to your attorney for any discussions. If you aren't working with a Georgia personal injury attorney yet, you should be very careful what you say. Do not answer questions about fault or discuss your injuries. The adjuster will try to get you to talk and answer seemingly innocent questions. Beware: They will use your words against you. The less you say, the better.
You typically don't need to pay any upfront or out-of-pocket fees to hire a personal injury lawyer in Georgia. Our personal injury lawyers don't collect any fees unless we recover money for you. Even then, our fees are paid as a percentage of the recovery rather than coming out of your pocket.
How Our Georgia Personal Injury Attorneys Can Help with Your Case
A personal injury attorney from Weaver Law Firm can help with every part of your case. This includes:
Giving you trusted legal advice and answer any questions you have about the legal process
Working with experts to understand what happened and who was at fault
Taking care of all paperwork and communication related to your claim
Thoroughly assessing the full extent of your damages, including future anticipated losses you could face
Negotiating aggressively for a full and fair settlement for your injuries
Bringing your case to trial if the insurance companies won't agree to a fair settlement
If you've been injured in an accident that wasn't your fault, speak with an attorney at Weaver Law Firm today. Our experienced Georgia personal injury lawyers can answer your questions and take the pressure off you following an accident. From investigating what happened to advocate for the compensation you deserve, we can take care of your claim from start to finish.
For your free consultation, call us or contact us online now.