Burn Injury Attorney in GA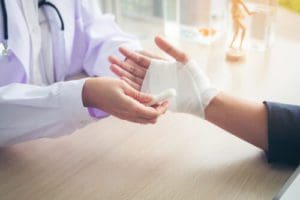 Burn injuries are extremely painful and can be challenging to treat. They can lead to dangerous infections and can leave victims with scarring and life-long consequences. If you've suffered burns due to someone else's negligence, you may be able to seek compensation for your injuries. Talk to a Georgia burn injury lawyer at Weaver Law Firm today.
At Weaver Law Firm, our Georgia burn injury attorneys have helped countless people and families throughout North Georgia seek fair compensation after devastating accidents. Whether the burns happened in an accident at work, on the road, or in an unsafe location, our attorneys can help. We can talk with you about your injuries, answer your questions, then fight for you and the maximum compensation you need to heal.
Whether you've been injured in Gainesville, Cumming, Murrayville, or anywhere else in North Georgia, our attorneys can meet with you for a free consultation. Call us or contact us online today to get started.
Common Types of Fire and Burn Injury Lawsuits
Many people think that burn injuries only happen in dangerous locations. But the fact is that burns can happen anywhere. Faulty products can start fires at home. Dangerous tools can cause burns at work. The fires started in an auto accident can lead to life-threatening injuries for people on the road. Common types of burn lawsuits we handle involve:
Burn injuries at work. Risky working conditions and dangerous tools can easily lead to burn injuries at work. From thermal burns caused by flames to chemical and radiation burns caused by hazardous materials, work is one of the most common places for people to end up with serious burns.
Burn injuries in motor vehicle accidents. The gasoline used in car and truck accidents can easily ignite in a crash. In a tanker truck accident, flammable liquid may escape and ignite. These situations can lead to massive injuries and life-threatening burns that may require months or even years of medical treatment.
Burn injuries on dangerous property. Fires and burn injuries can happen anywhere, even at home. When a property has faulty smoke detectors or lacks adequate fire extinguishers, a negligent landlord could be held liable for your injuries.
If you have questions about your injuries and the compensation you may seek, talk with a Georgia burn injury lawyer today.
Demanding Full Compensation for Your Burn Injury
After a burn injury, you may need compensation for more than just your immediate losses. Thankfully, Georgia law allows victims to pursue many different types of compensation, including payment for future anticipated losses. These could include:
Compensation for the medical treatment you need after an accident and the care you may need in the future
Lost wage compensation and compensation for damage to your earning potential
Loss of consortium for married couples
Pain and suffering compensation for your injuries
How a Georgia Burn Injury Lawyer Can Help You
Following an accident, a burn injury lawyer can provide critical support for you and your claim. Some of the important ways that a burn injury lawyer in Georgia could help you include:
Gathering key evidence and working with experts to understand the accident
Listening to you and your doctors to understand your injuries and how they've impacted your life
Taking the pressure off you by handling all calls, paperwork, and communication involved in your claim
Exploring all possible sources of compensation and holding those responsible accountable
Negotiating with insurance companies and those responsible for a full and fair burn injury settlement
Filing a burn injury lawsuit if needed to pursue the compensation you need in court
How Long Do You Have to File a Burn Injury Lawsuit in Georgia?
If you have suffered a burn injury in Georgia due to someone else's negligence, the time limit to bring a claim is two years from the date of the accident. However, there may be some circumstances where this period is put on pause or extended by courts. To understand what time limits may apply in your claim, talk with a Georgia burn injury attorney as soon as you can after an accident.
Types of Burn Injuries
Doctors treat burn injuries every day, and each type needs specific treatments. For example, a burn injury caused by a fire is very different from one caused by chemical burns. If you've suffered any of these types of burns, get the medical care you need, and then talk with an attorney about your options:
Thermal burns
Electrical burns
Friction burns
Chemical burns
Radiation burns
What to Expect with a Burn Injury and Your Recovery
Burn injuries can be severe and may require extensive treatment from the moment you are in the hospital. What happens next will depend upon the severity of the burn and the type of burn you've suffered:
First-degree burns only harm the outermost skin and may result in pain and some irritation. These may resolve naturally but may require a doctor's care in some situations.
Second-degree burns are more severe and can harm the first and second layers of skin. These injuries can lead to blistering and severe pain for victims. Doctors may treat these with antibiotics to prevent infections.
Third-degree burns are the most serious and affect all layers of skin as well as the tissue underneath. These dangerous burns can destroy nerve endings and may require surgeries, skin grafts, and a range of other treatments.
For all of these burns, recovery takes time. Listen to your doctor's orders and follow through on the treatment they recommend.
Talk to a Georgia Burn Injury Attorney Now
If you've suffered a burn injury, contact Weaver Law Firm today. For over two decades, our Georgia burn injury lawyers have helped accident victims recover from devastating injuries. We are ready to put our skills, knowledge, and resources to work for you.
For a free consultation about your burn injury case, call us or contact us online now.