Brain Injury Attorney in GA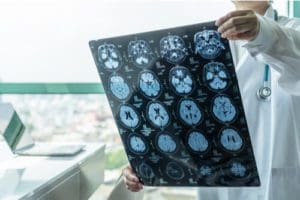 Traumatic brain injuries can alter an accident victim's life, take away the ability to work, and cause problems that can follow the victim for years. All of this can add up to a long recovery and what can feel like a daily struggle to get better. It can take a tremendous toll ─ physically, emotionally, and financially.
At Weaver Law Firm, we know what accident victims go through when coping with traumatic brain injuries, and we're here to help. With over two decades of experience, our Georgia brain injury lawyers have the skill, knowledge, and resources to stand up for accident victims' rights. Our local lawyers have helped individuals and families recover maximum compensation for brain injuries in Gainesville, Cumming, Murrayville, and throughout North Georgia. We are trusted advocates committed to delivering outstanding service to you.
Our brain injury attorneys will review your case for free and answer all your questions. We do not charge any fees unless we recover payment for you. Call us or contact us online now to get started.
When Can You File a Personal Injury Claim After a Traumatic Brain Injury?
If someone else is to blame for the accident that led to your head injury, you may be entitled to file a personal injury claim for compensation. For example, if you were hurt in a car accident that was caused by a reckless driver, you can pursue compensation from the driver and his or her insurance company. If you suffered an injury in a fall at a store, you may be able to pursue payment from the property owner or manager.
It is important that you seek legal advice as soon as possible after an accident involving a brain injury. Your lawyer will need to gather extensive evidence to support your claim. The sooner you get an attorney on your side, the better.
Common Causes of Brain Injuries
Brain damage can happen after nearly any type of accident. But it's more common in situations where forceful impacts or falls occur. Some common causes of injuries include:
Bicycle accidents
Premises liability accidents
How Much Is a Traumatic Brain Injury Claim Worth?
In Georgia, the law allows you to seek compensation for many different types of losses that you suffer after an accident. These can range from compensation for medical costs for your brain injury to compensation for your pain and suffering. If you need to bring a brain injury case, some of the categories of compensation you may be entitled to include:
Medical bills and future treatment compensation
Rehabilitation costs
Lost wages
Damage to future earnings
Loss of consortium
Pain and suffering
Emotional distress
If you ultimately lose a loved one due to a fatal brain injury, you may be able to seek compensation for the wrongful death. To learn how our Georgia brain injury attorneys can help you, contact us now for a free and confidential consultation.
Time Limit for Filing a Brain Injury Lawsuit in Georgia
Under Georgia law, you typically have two years from the accident's date to bring a brain injury lawsuit. Although this can seem like a lot of time, it's important to get the process started as soon as possible. Make sure that you speak with an attorney to understand your rights under the law.
Symptoms of a Traumatic Brain Injury
After a head injury or brain damage, it can be challenging for doctors and medical professionals to diagnose the problem. That's because traumatic brain injuries can have many different symptoms, and it can be hard for patients to describe their problems. However, some common symptoms may include:
Mood swings and changes in behavior
Tingling in extremities such as arms or legs
Concentration difficulties
Confused perceptions and thinking
Difficulty with eye focus
Sleep disorders such as drowsiness and insomnia
Digestive problems and nausea
Headaches
Problems speaking or articulating thoughts
Unexpected seizures
These are only a few of the symptoms that could arise after a head injury. If you've been involved in an accident and you're experiencing these or other symptoms, get the care you need and speak with an attorney today.
What to Expect in Treatment for a Brain Injury
When accident victims suffer head injuries, doctors may use several different types of treatment to help patients heal. These could include surgery, medications, and rehabilitation, depending upon the nature and severity of the injury. The right course for you will depend upon your injuries and your doctor's recommendations.
Doctors often only use surgery as an emergency measure after a brain injury. If bleeding, a clot, or other life-threatening problems occur because of an accident, then surgery may be necessary. Brain surgery can save people's lives, but it comes with its own set of concerns and challenges.
Following surgery, or in cases where surgery isn't needed, doctors may use medication to help patients. This medication can perform many different functions, from minimizing brain swelling to reducing inflammation. Medicines like these can be a crucial part of many patients' recoveries.
Finally, after a patient is stable, they may need to undergo rehabilitation. Rehabilitation can help patients regain muscle control and relearn skills they may have lost because of their injuries. While the rehabilitation process can be long and sometimes frustrating, it's often one of the most critical tools for accident victims.
Talk to a Brain Injury Lawyer in Georgia Now
After an accident resulting in a brain injury, do not hesitate to seek legal advice. Contact Weaver Law Firm today. Whether you just have questions or are ready to take action, we are here for you. We proudly serve clients throughout North Georgia, including people who have been injured in accidents in Gainesville, Cumming, Murrayville, and surrounding areas.
For a free and confidential consultation about your case, call us or contact us online today.