Motorcycle Accident Attorney in GA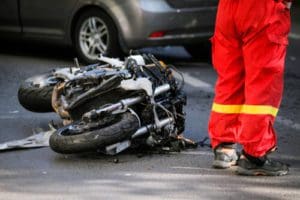 Experienced motorcycle riders know that safety matters. But even a careful rider who is following Georgia motorcycle laws could be seriously injured in an accident when other drivers do not exercise adequate caution. The result can be severe or even life-threatening injuries that leave a rider in pain, unable to work, and with a mounting pile of bills. If you have been injured by a careless driver, talk to an experienced Georgia motorcycle accident lawyer as soon as possible.
At Weaver Law Firm, our Georgia motorcycle accident attorneys understand the challenges that riders face. We know how insurance companies and at-fault drivers try to shift the blame to motorcyclists. For over 20 years, we've fought for riders throughout Gainesville, Cumming, Murrayville, and the rest of North Georgia. We can help you understand your rights and fight for the full compensation you need to recover.
For a free consultation about your motorcycle accident case, call us or contact us online today.
Why You Need a Motorcycle Accident Attorney After a Crash
Motorcycle accidents can be complex, and the injuries that riders suffer can be severe. During the stressful and painful time following a wreck, a motorcycle accident lawyer in Georgia can serve as your voice and take the pressure off of you. Some of the important ways that our lawyers can help include:
Investigating the motorcycle wreck and working with experts to understand what happened
Collecting and safeguarding important evidence such as police reports, photos and videos from the scene, witness statements, and medical records
Building a strong claim for the maximum compensation you deserve, including future anticipated losses you face
Managing all the paperwork and communication related to your motorcycle accident claim
Answering any questions you have and keeping you up-to-date as your case progresses
Negotiating aggressively with insurance companies for a full and fair motorcycle accident settlement
Filing a motorcycle accident lawsuit if those who are at fault won't give you the compensation you deserve
Why Are Motorcycle Accident Claims More Difficult?
Motorcycle claims can be more difficult than other types of accidents for a few reasons:
The injuries can be more severe.
The accident scene could be more complex.
The other side may try to say that the rider was at fault rather than themselves.
Motorcycle riders may have to fight the prevalent stereotype that bikers are "bad guys" who are reckless on the road.
These elements can add up to a personal injury claim that may be significantly more challenging than a typical car accident case. But with an experienced motorcycle accident lawyer on your side, you can trust that your rights are being protected.
How Much Is Your Motorcycle Accident Case Worth?
After an accident, you may be facing serious injuries and losses. A motorcycle accident injury claim can help you pursue the compensation you need to recover. This may include payment for:
Any medical costs related to your injury
Lost wages you suffer because of an accident
Damage to your future earning potential
Pain and suffering you experience
Loss of consortium for married couples
Do not let an insurance company tell you what your case is worth. If you've been injured, speak with a Georgia motorcycle accident lawyer from Weaver Law Firm today about how you can demand the full payment you deserve.
What to Do After a Motorcycle Accident to Protect Your Rights
Motorcycle accidents can leave you in the hospital wondering what tomorrow will bring. But even during the stressful days and weeks after an accident, there are things you can do to protect your claim. Key steps you could take include:
Saving any evidence you have, including witness contact information, photos, and anything else that could be helpful
Writing down everything you remember about the accident, no matter how small the details
Keeping a journal about your experience and how your injuries are affecting your daily life
Following through on your doctor's orders and your treatment plan
Staying off social media
Talking with a motorcycle accident lawyer in Georgia about your legal rights
How Long Do You Have to File a Motorcycle Accident Lawsuit in Georgia?
Typically, you have two years from the date of the crash to file a motorcycle accident lawsuit. The law sets that time, known as the statute of limitations, and there are very limited exceptions. If you have been hurt in a crash, speak with an attorney as soon as you can after your accident to make sure you get everything you need to be done in time.
Motorcycle Accident FAQs
Our Georgia motorcycle accident attorneys are always available to answer your questions. We can discuss the specifics of your case during a free and confidential case evaluation. We've also provided the answers to a few frequently asked questions below:
Motorcycle Accident
This is a common question that accident victims have, especially when it's unclear what happened in a collision. The short answer is that if you were less than 50% responsible for the accident, you can pursue compensation under Georgia motorcycle laws. However, your compensation may be reduced by the amount that you were at fault for the accident.
For example, if a rider wasn't following Georgia's motorcycle helmet law or Georgia's motorcycle lane splitting law, and the rider is deemed to be 20% to blame for the accident, then the amount of compensation could be reduced by 20%. So if damages in the crash were $100,000, the compensation would be reduced by $20,000.
If the other driver doesn't have insurance, you may still have options. A Georgia motorcycle accident lawyer could review your policies for coverage and help you identify all potential sources of compensation, such as uninsured motorist coverage.
Our motorcycle accident lawyers don't charge you anything upfront, and we only get paid if we recover money for you. That means our fees come out of your recovery and not out-of-pocket.
Talk to a Georgia Motorcycle Accident Lawyer Now
If you've been injured in a motorcycle collision, contact Weaver Law Firm today. For more than two decades, we have been helping motorcycle accident victims throughout North Georgia. Our trusted motorcycle accident attorneys have the skill, knowledge, and resources to stand up for you.
To learn more about how we can help, get your free consultation now. Call us or contact us online to get started.