Hit-and-Run Accident Lawyer in Gainesville, Georgia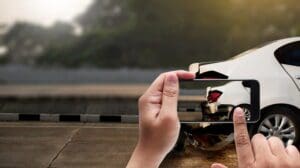 We live in a society of rules. When an accident happens in Gainesville, Georgia, the right and legal thing to do is pull over and make sure everyone is okay. Hit-and-run drivers ignore the law and the rules of society and flee the scene, leaving vulnerable accident victims to fend for themselves.
The moments after a hit-and-run accident can be frightening. The days and weeks after a hit-and-run accident can be downright frustrating. It is not easy to pursue a claim for compensation after a hit-and-run accident. Without information about the at-fault driver, you may find that your claim stalls or you are not getting the compensation you deserve.
At Weaver Law Firm, we know how overwhelming it can be to deal with a hit-and-run accident claim. Our Gainesville legal team is committed to helping hit-and-run accident victims pursue the money they need to recover from their injuries. We have been working on behalf of Georgia car crash victims for over two decades. Let us put our experience to work for you.
If you have been the victim of a hit-and-run accident in Gainesville or elsewhere in Georgia, don't hesitate to discuss your case with a capable and caring attorney. We offer hit-and-run accident victims a free initial consultation. Reach out to us today and learn more about how we can fight for the money you deserve.
What Constitutes a Hit-and-Run Accident in Gainesville, Georgia?
Leaving the scene of an accident isn't just wrong. It is illegal. Georgia law mandates that all motorists immediately stop at the scene of an accident or the nearest safe location.
Failing to stop, render aid, and exchange information with the other drivers involved is against the law. Motorists convicted of a hit-and-run offense can face between one and five years in prison, steep fines, and the suspension of their driver's license. If found, hit-and-run drivers can also be held liable for damages.
Why You Need a Hit-and-Run Accident Lawyer
Holding a hit-and-run driver responsible for their actions can be challenging. That is why you need the knowledge and experience that a Gainesville hit-and-run accident lawyer can bring to the table.
In some instances, an attorney can work with law enforcement to investigate the circumstances of the accident and track down the identity of the hit-and-run driver. In other cases, it may be necessary for an attorney to help you file an uninsured motorist (UM) claim with your insurance provider.
The hit-and-run accident attorneys at Weaver Law Firm have the resources to guide you through the process of pursuing compensation after a hit-and-run accident, no matter what your circumstances. Our team is prepared to:
Investigate the cause of the crash.
Collect evidence before it is lost or destroyed.
Gather copies of crucial documents like medical records and police reports.
Handle all communications between you and the insurer.
Negotiate on your behalf for full and fair compensation.
Prepare your case for court if it becomes necessary.
We strive to help you build the strongest case possible so you can pursue a favorable outcome following a hit-and-run car crash in Gainesville.
Common Types of Hit-and-Run Accidents
Some of the most common types of hit-and-run incidents in Georgia include:
Side-impact collisions
Sideswipe accidents
Blind-spot accidents
Multi-vehicle pileups
Impacts involving head-on collisions or rollovers are not common hit-and-run accidents. These types of accidents tend to cause a great deal of damage to vehicles, making it harder for drivers to get away from the scene.
There are also sub-categories of hit-and-run accidents that include:
Attended vehicles – When a motorist hits another driver in a vehicle and flees the scene, this is what most people consider a classic hit-and-run incident.
Unattended vehicle – This type of hit-and-run accident often occurs in parking lots or crowded areas. Hitting a car, even when no one is inside, and then leaving the scene without exchanging information is still considered a hit-and-run.
Pedestrians and cyclists – In some of the worst cases, hit-and-run drivers hit someone on foot or on a bike and take off without assisting the victim or taking responsibility for the crash.
Property damage – Hit-and-run accidents don't always have to involve two vehicles. Hitting public or private property, doing damage, and then fleeing is also considered a hit-and-run incident.
Common Injuries Sustained in Hit-and-Run Accidents
Some of the most common injuries that hit-and-run victims sustain include:
Traumatic brain injuries
Neck and spinal injuries
Facial injuries
Broken bones
Joint injuries
Organ damage
Internal bleeding
Burns
Lacerations
Contusions
Determining Eligibility for Compensation After a Hit-and-Run
When a hit-and-run driver cannot be found, victims in Gainesville may be able to turn to their own auto insurance to recover compensation for their injuries. Uninsured motorist (UM) coverage is designed to protect accident victims from motorists who do not have liability insurance. UM coverage will also generally cover hit-and-runs where the at-fault driver cannot be found or identified.
Georgia does not require motorists to carry UM coverage. However, insurers must offer this type of plan to drivers, who must reject the coverage in writing.
You or your attorney will need to review your auto insurance policy to see if you carry UM coverage. The amount of compensation you may receive will depend on your coverage limits. Most policies will cover up to $25,000 per person and $50,000 per accident for bodily injuries.
Depending on your situation and whether the hit-and-run driver can be found, you may also have other options for recovering compensation after an accident. If the hit-and-run driver comes forward or is found by law enforcement, you could file a claim with their insurance provider, assuming they carry the required insurance. You may also have the option of filing a personal injury lawsuit against them. An experienced hit-and-run accident lawyer can help you determine the best path forward.
Contact Our Gainesville Hit-and-Run Accident Attorneys Today
You may feel hopeless after a hit-and-run accident. However, you may have options. At Weaver Law Firm, we want you to know that we will do everything possible to help you pursue the money you need to move forward with your life.
Contact our Gainesville law firm today to set up a free consultation with a knowledgeable hit-and-run accident attorney.