Common Types of Car Accidents in Gainesville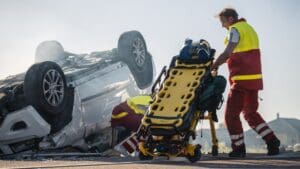 Car accidents affect the lives of thousands of drivers in Gainesville and elsewhere in Georgia every year. Across the United States, nearly 22,700 passenger vehicle occupants die in car accidents every year, while an estimated over 2.43 million others sustain injuries annually.
If you have been involved in a car accident in Gainesville, you may be struggling under the weight of mounting medical bills and missed time from work. If this sounds like your situation, contact a Gainesville car accident lawyer to discuss your options for compensation.
The Gainesville personal injury attorneys at Weaver Law Firm are ready to review your particular situation and help you pursue the compensation you are entitled to regardless of the type of your car crash. Our knowledgeable and results-driven lawyers advocate for the rights of accident victims and their families in Gainesville and throughout North Georgia.
Contact us now to discuss your legal options with our attorneys for free.
Most Common Types of Car Accidents in Gainesville
Below is a list of common types of car crashes that often occur on Gainesville-area streets, roads, and highways:
Rollover accidents occur when a vehicle rolls over and ends up on its side, roof, or rolls multiple times. These accidents often occur when a driver loses control of the vehicle as a result of an abrupt maneuver or as the result of the collision.
Head-on collisions, which are among the deadliest types of car accidents, happen when a vehicle crosses the median and hits an oncoming vehicle. Distracted, drowsy, or drunk driving often cause these types of car crashes.
Hit and run accidents refer to accidents in which one party leaves the crash scene without providing their contact information.
Rear-end collisions occur when one vehicle crashes into the back of the vehicle in front of it either because of distracted driving, failure to maintain a safe following distance, or another cause.
Side-impact accidents, also known as T-bone or broadside crashes, happen when the front of one car strikes the side of another vehicle.
Single-vehicle crashes, which is one of the most common types of car accidents, involve one vehicle and usually occur due to drowsy driving, speeding, driving under the influence of alcohol or drugs, or distracted driving.
Intersection accidents typically occur when one driver tries to beat a yellow light or runs a red light but ends up crashing into another vehicle. Failure to stop at a stop sign can also cause intersection accidents.
Rideshare accidents are motor vehicle crashes involving Uber, Lyft, or other rideshare vehicles.
Multiple-vehicle collisions are common types of car crashes that involve more than two vehicles.
Chain-reaction accidents occur when one vehicle crashes into another and triggers several other accidents.
No-contact accidents occur when a driver's actions cause another driver to crash in some way even though there is no contact between the vehicles. Victims may say that another driver ran them off the road.
Parking lot accidents are any crashes that occur in parking lots, usually when drivers back out of spaces.
If you are a passenger who has been injured in any type of car accident, you have the same right to compensation as an injured driver. You may be entitled to compensation from the at-fault driver even if you were in that driver's vehicle. If you are an injured passenger, there may be multiple policies involved. That is why it is advisable to consult with a Gainesville car accident attorney to identify the most appropriate options for compensation in your particular case.
Common Factors That Contribute to Car Accidents
The National Highway Traffic Safety Administration (NHTSA) estimates that 94% of all motor vehicle accidents result from some form of driver error. Here are some of the most common factors that contribute to various types of traffic accidents in Gainesville:
Speeding
Distracted driving
Driving under the influence of alcohol or drugs
Aggressive driving and road rage
Drowsy driving
Failure to yield the right of way
Tailgating or failure to maintain a safe distance between vehicles
Wrong-way driving
Unsafe lane changes
Running red lights or stop signs
Failure to obey other traffic laws
Adverse weather conditions
Poor road conditions
Improperly maintained vehicles
Automotive defects
It is sometimes difficult to determine what caused or contributed to a motor vehicle accident. That is why it is crucial to have a skilled attorney investigate your particular crash and determine liability in your accident.
Liability for Car Accidents in Gainesville
Georgia is a fault state, which means motorists are responsible for paying any damages and losses they cause to other people due to their negligence. When determining liability, a car accident attorney will have to investigate the facts of your crash and review all available evidence, such as:
The police report
Photos and videos from the scene of the accident
Camera surveillance footage
Statements from witnesses
The damage to all vehicles involved in the crash
Testimony from accident reconstruction experts
Georgia follows the doctrine of modified comparative negligence (O.C.G.A. § 51-12-33). It means that each party's degree of fault plays a role in determining liability for the accident. An injured party's compensation is reduced in proportion to their degree of fault. If the injured victim is 51% or more at fault, they will be barred from recovering damages.
Contact Our Experienced Gainesville Car Accident Lawyer Today for Help
It is best to contact a skilled car accident lawyer in Gainesville to help you pursue compensation after your motor vehicle crash. At Weaver Law Firm, our team of dedicated car accident lawyers in Gainesville can help you with the following:
Investigating your accident to determine what caused it and who can be held liable for the damages
Gathering evidence to support your car accident claim
Negotiating with insurance companies to protect and preserve your rights
Fighting for fair and full compensation on your behalf
Let our experienced car accident attorneys at Weaver Law Firm review your specific case and help you seek the compensation you are entitled to. We have been serving residents of Gainesville for over 20 years. Schedule a free case evaluation by contacting us now.