Common Causes of Car Accidents in Gainesville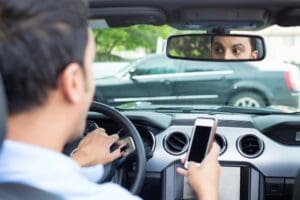 Reports from the Georgia Department of Public Health indicate that motor vehicle crashes are the top cause of accidental deaths and the state's second-most common cause of hospital and ER visits. But what are the most common causes of car accidents in Gainesville?
Below, the Weaver Law Firm discusses the top contributing causes of accident cases we handle in Gainesville and the surrounding area of Georgia. Contact us today for a free initial consultation to learn more about how we can help you with any kind of car crash claim.
Common Causes of Car Accidents in Gainesville, GA
Numerous factors may contribute to a Gainesville car accident. Many accidents have multiple causes. Here are a few examples of some of the most common causes of car crashes:
Distracted driving – Distracted driving is both widespread and incredibly hazardous. Examples of driving distractions include texting or talking on the phone, eating or drinking, personal grooming, adjusting vehicle or GPS controls, rubbernecking, daydreaming, and interacting with passengers.
Driving under the influence – Drivers who are under the influence of alcohol, illegal drugs, or even legal medications may become dangerously impaired. The effects of alcohol and certain drugs can affect a driver's spatial awareness, judgment, reaction time, vision, and concentration.
Reckless driving – Reckless driving, or driving without regard to safety, is a leading cause of injury in car accidents. Common reckless driving behaviors include speeding, driving too fast for conditions, weaving between lanes, ignoring traffic laws or signs, tailgating, failing to yield the right-of-way, and blocking other vehicles.
Drowsy driving – Safe driving requires alertness and concentration. Drowsy drivers tend to have difficulty with both. According to the Centers for Disease Control and Prevention, drivers who are sleep-deprived for just 24 hours have cognitive limitations similar to people with blood alcohol concentrations over the legal limit.
Speeding – Exceeding posted speed limits and driving too fast for conditions are a form of negligence. Speed makes it much more difficult to slow or stop in time to avoid accidents. According to the National Highway Traffic Safety Administration, speeding has contributed to roughly one-third of all accident fatalities for decades.
Tailgating – Tailgating involves following too closely behind another vehicle in motion, leaving inadequate distance to slow down or stop as needed. Drivers who tailgate cause accidents when they collide with stopped or slow traffic – and they are usually at fault.
Poor road conditions – Inclement weather such as torrential rain, snow, high winds, or fog can increase the risk of an accident by reducing visibility and making it more difficult to control a vehicle. Poor road infrastructure such as blind curves or potholes can also contribute to vehicle accidents.
Failure to yield – All road users are expected to yield the right-of-way to others in certain situations. When drivers ignore or refuse to yield the right-of-way, law-abiding road users can become involved in accidents. Many failure-to-yield wrecks occur at red lights, stop signs, or other intersections.
Failure to stop – Drivers who fail to stop at red lights or stop signs are frequently responsible for devastating high-speed crashes. When two vehicles travel through an intersection simultaneously and at full speed, the resulting collision can cause severe injuries.
Inexperienced driving – Teen drivers and other drivers with limited experience may not instinctively know the best way to react in emergency traffic situations. An inexperienced driver is especially likely to cause traffic accidents if distracted, intoxicated, or otherwise impaired behind the wheel.
Unsafe lane changes – Drivers who zip back and forth between lanes, fail to check their blind spots, or fail to signal their turns are likely to cause traffic accidents. Negligent drivers often make unsafe lane changes when they are distracted, aggressive, or in a hurry.
Unsafe turns – Drivers must yield the right-of-way any time they prepare to turn, merge, or change traffic lanes. Left-hand turns tend to be especially problematic because drivers on the right-hand side of the road must cut across one or several lanes of oncoming traffic to turn left.
Vehicle defects – Even safe drivers can cause traffic accidents if a vehicle defect or mechanical failure leads to loss of control. Common vehicle defects that contribute to loss-of-control accidents include faulty tires, brake systems, steering systems, and airbags.
Proving Liability for Any Type of Car Crash
If you were injured in a Gainesville car crash, you have the right to pursue compensation for your losses. However, you must prove that someone else was responsible for the accident to hold them financially liable.
The car accident attorneys of Weaver Law Firm can help you prove liability in your claim by uncovering and preserving evidence and information such as:
Police accident reports
Photographs of the accident scene
Photographs of visible injuries
Video footage of the accident
Testimony from credible eyewitnesses
Testimony from expert witnesses
Your medical records and bills
Your pay stubs and bank records
Your recollection of the crash
What to Do If You Have Been Hurt in a Crash in Gainesville
The actions you take after a Gainesville car accident can have a significant impact on your case and your ability to seek compensation. You can protect yourself and your right to pursue a car accident claim by:
Seeking prompt medical treatment, even if you believe your injuries are minor
Following through on your doctor's orders and treatment recommendations
Gathering evidence and information from the scene to support your claim
Keeping track of all accident-related bills, out-of-pocket costs, and losses
Taking notes to record the daily effects of your injuries, including pain and psychological issues
Avoiding communication with anyone but your lawyer about the accident
Avoiding any social media posts until your accident claim has been resolved
Contacting an experienced Gainesville attorney for professional legal advice
Contact a Car Accident Lawyer in Gainesville, GA, Today
If you were injured in a Gainesville, GA car accident, let the skilled attorneys of the Weaver Law Firm fight the insurance company for the compensation you deserve. Contact us today to discuss the details of your car accident claim with a knowledgeable lawyer.