Cumming Distracted Driving Accident Lawyer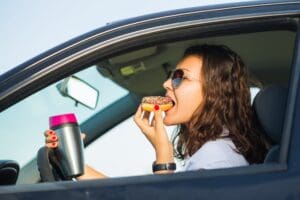 Distracted motorists are a seemingly ever-present hazard on the road in Cumming and throughout Georgia. With 85% of the U.S. population owning smartphones, drivers have an increased number of distractions that could potentially lead to a severe injury or fatal car crash.
The personal injury lawyers at Weaver Law Firm are all-too-familiar with the dangers of distractions behind the wheel. We're ready to stand up for you if you've been hurt by someone who was not paying attention while behind the wheel.
For more than two decades, the car accident lawyers of Weaver Law Firm have advocated for injured clients throughout Northern Georgia. We strive to provide outstanding service to each person who walks through our doors, taking the time to discuss what you are going through to see how we might assist you.
Our firm has two convenient office locations in Gainesville and Cumming to best serve you. Contact our firm today for a free consultation to discuss how a car accident lawyer from Weaver Law Firm can help you through the process of seeking compensation and justice after a crash.
What Is Distracted Driving?
Distracted driving occurs when a motorist engages in an activity that diverts their attention away from the task of driving. Safe driving requires full attention, so any distraction could put the driver and others at risk of an accident.
Distracted driving can arise from three types of distractions:
Visual distractions, which take your eyes off the road
Manual distractions, which cause you to take your hands off the steering wheel
Cognitive distractions, which take your mind off the act of driving
Some distractions involve only one category, such as daydreaming only involving cognitive distraction. However, many distractions fall into multiple categories.
For example, texting while driving involves all three categories of distraction, as a driver must take their eyes off the road to read a text, must hold their phone in their hand, and must think about what a text says and how to respond.
How Our Law Firm Can Help with Your Distracted Driver Crash Case
When you have been injured in a crash caused by a driver distraction in Cumming, our firm can help you recover fair and full compensation by:
Thoroughly investigating the accident to recover evidence we can use to show that a distracted driver caused the crash and your injuries
Retaining experts to help us with preparing a persuasive case that proves the other driver was distracted
Filing your claims for compensation with the at-fault drivers and their insurance companies.
Aggressively negotiating for a settlement that pays you full compensation for your medical expenses, lost wages, future lost wages, pain, and suffering, and other losses
Taking your car accident case to court if necessary to pursue all your legal options for securing a financial recovery.
Causes of Distracted Driving Accidents in Cumming
Some of the most common causes of distracted driving accidents in Cumming include:
Texting or talking on the phone
Eating or drinking
Conversing with passengers
Adjusting the GPS
Interacting with the infotainment system
Reading a map or other printed materials
Grooming, shaving, or applying makeup
Interacting with children or pets in the vehicle
Focusing on billboards or other objects along the side of the road
Daydreaming
Common Injuries Involved in Distracted Driving Accidents
Injuries that car accident victims in Cumming often suffer include:
Whiplash
Broken bones
Internal bleeding
Psychological trauma
Spinal cord injury
Traumatic brain injury (TBI)
Lacerations
Paralysis
Sprains and strains
Herniated discs
Facia injuries
Nerve damage
Internal organ injuries
Burn injuries
Georgia Texting While Driving Laws
Georgia's hands-free law prohibits drivers from holding a cell phone while driving. Drivers must use a hands-free device or system with their phones, such as using the speakerphone, a Bluetooth earpiece, or the vehicle's connection with a phone.
The law prohibits activities such as:
Reading, writing, or sending emails, text messages, or social media posts, although using voice-to-text is permitted.
Watching videos, although drivers may use navigational systems
Recording video, although phones may be used as continuously running dashcams
Touching the phone to use any music streaming app
A first-time conviction imposes a $50 fine and one point on one's driver's license. The penalties increase to $100 and two points for a second conviction within 24 months, and $150 and three points for a third or subsequent conviction within 24 months. A first-time conviction can be avoided by obtaining a device that allows for hands-free use of the cell phone.
Compensation for a Victim of a Cumming Distracted Driving Accident
If you were injured by a distracted driver in Cumming, you may be entitled to pursue a personal injury claim to recover compensation for:
Medical bills for treatment for your injuries
Costs of long-term care for permanent disabilities you suffered due to your injuries
Loss of income when missing work while recovering from the accident
Lost earning capacity due to permanent disabilities rendering you unable to work
Pain and suffering
Loss of quality or enjoyment of life
Repair bills for damage to your vehicle and other property damage
Filing a Car Accident Claim in Cumming, GA
Filing a claim for compensation after a car accident usually begins with filing a claim with the at-fault driver's insurance company. However, if the other driver doesn't have insurance or sufficient insurance coverage, you may choose to file an uninsured/underinsured motorist (UM/UIM) claim with your own insurance company.
After filing a claim with the insurer, your attorney will typically negotiate with the other driver's insurance company to reach a settlement that pays you full compensation. If a fair settlement cannot be reached, you may need to file a lawsuit to continue pursuing your claims.
Distracted Driving Statistics in Georgia
According to the Georgia Governor's Office of Highway Safety, approximately 56 percent of all traffic accidents involve at least one confirmed or suspected distracted driver, while 46 percent of all serious injury crashes involve at least one confirmed or suspected distracted driver.
Since Georgia's hands-free law took effect, distracted driver convictions increased five-and-a-half times. Drivers ages 25 to 34 received the most distracted driving citations and were involved in more distracted driving accidents than any other age group.
Contact Our Experienced Cumming Distracted Driving Accident Attorney Today
If you were injured in an accident caused by a distracted driver in Forsyth County, contact Weaver Law Firm today for a free, no-obligation consultation. Our experienced Cumming distracted driving accident attorneys have a long track record of helping people recover fair compensation when they've been injured in preventable accidents.
Our personal injury law firm takes car accident cases on a contingency fee basis. That means you won't owe us any attorney fees unless and until we secure compensation for you.
Don't wait to get the legal advice you need. Contact us now for your free consultation with an experienced car accident attorney.