Georgia Common Truck Accident Injuries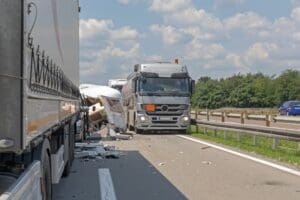 According to the Federal Motor Carrier Safety Administration (FMCSA), more than half of all large truck accidents in Georgia result in injuries. The luckiest people can expect a full recovery. But others are left with pain, reduced quality of life, and astronomical medical expenses that can last a lifetime.
Georgia truck accident injuries are usually more severe compared to crashes with smaller vehicles. That's because a fully loaded truck outweighs the average passenger car by more than 75,000 pounds. When the two collide, the occupants of the other vehicle almost always suffer the worst injuries.
If you were hurt in a Georgia truck crash through no fault of your own, you could be entitled to compensation for your losses. Contact the truck accident attorney at Weaver Law Firm today. With more than 20 years of experience representing seriously injured victims in the Peach State, our legal team knows what it takes to pursue maximum compensation after a collision.
Acting quickly is the first step towards the compensation you need and deserve. Call or contact us today for a free consultation.
Common Truck Accident Injuries in Georgia
The sheer force of a large commercial truck colliding with a standard car is enough to destroy the passenger vehicle and severely injure anyone inside. Some of the most common types of truck accident injuries in Georgia include:
Head injuries and traumatic brain injuries
Facial injuries
Neck injuries and whiplash
Back injuries, such as herniated discs
Partial or total paralysis
Broken bones
Orthopedic injuries
Amputation 
Disfigurement and scarring
Internal bleeding
Internal organ damage
Sprains, strains, and other soft tissue injuries
Post-traumatic stress disorder (PTSD)
How to Prevent Truck Accident Injuries in Georgia
Commercial drivers have a responsibility to drive safely and do everything they can to prevent truck accidents. Likewise, other motorists must drive safely around larger trucks.
You can do your part to reduce the risk of truck accident injuries by:
Staying visible: Large trucks have correspondingly large blind spots. Do your best to remain visible to drivers by avoiding the areas immediately in front of and behind the truck, as well as in the lane spaces immediately to either side of it. Keep in mind that a truck's blind spots can extend across multiple lanes of traffic.
Passing with care: Be careful when you need to pass or merge in front of a truck. Truckers cannot slow down or stop as quickly as other drivers, so never cut them off abruptly or pass while going uphill or downhill.
Giving the truck extra space: Trucks need more time and space to maneuver, so maintain a generous distance and be patient.
Never tailgating a truck: If a truck blows a tire or a driver needs to slam on the brakes, tailgating could result in a dangerous underride accident, where a passenger vehicle slides underneath the tractor-trailer.
Providing clear signals: Before you pass or change lanes in front of a large truck, make sure you signal earlier than usual to give the driver plenty of time to adjust.
Avoiding distractions. Distracted driving is always risky, but it's especially dangerous when you're driving near large trucks. Avoid any activities that could take your eyes, mind, or hands away from the task of safe driving.
What to Do After Being Injured in a Truck Accident
If you were injured in a Georgia truck accident, it's natural to feel overwhelmed. However, the actions you take immediately after the crash can significantly impact your physical and financial recovery.
To protect your legal rights and your ability to demand compensation, you should:
Seek medical attention promptly to get treatment for your injuries and establish a record of your physical condition.
Follow your doctor's orders to maximize your recovery and demonstrate that you are taking your injuries seriously.
Track your daily levels of pain and physical limitations in a pain journal.
Gather evidence from the truck accident, such as photographs of vehicle damage and statements from witnesses.
Keep track of all accident-related expenses, including medical bills, vehicle repair invoices, and other receipts.
Watch what you say to others about the accident, including your own insurance provider. Avoid apologizing for the crash or admitting fault for any reason.
Avoid sharing or posting anything on social media while your claim is pending. Even innocent information may be taken out of context and used against you.
Contact a truck accident lawyer as soon as possible to discuss your legal rights in a free consultation.
Don't stress if your injuries prevented you from following every step at the accident scene. At Weaver Law Firm, we'll do all the legal legwork so that you can focus on your recovery.
Wrongful Death in Truck Accident Cases
In especially tragic cases, truck accident victims may sustain fatal injuries. When this occurs, surviving family members may have grounds to seek compensation in a wrongful death claim.
To file a wrongful death truck accident claim in Georgia, a deceased person's family or estate must demonstrate that someone else's negligence directly contributed to the fatal crash. Negligent parties could include the truck driver, truck company, the manufacturer of a faulty truck component, or other entities involved in the trucking industry.
In a successful wrongful death claim, the surviving family members or estate of the deceased can receive compensation for losses like funeral expenses, loss of companionship, and the costs of medical care for the loved one before they died.
Time Limit for Filing a Truck Accident Lawsuit in Georgia
Georgia imposes strict limits on the amount of time you have to take certain types of legal action. This deadline is called the statute of limitations.
When it comes to truck accident claims, you generally have two years from the date of the wreck to file your lawsuit in court. This two-year time limit applies to both personal injury cases and wrongful death actions. If you wait too long to file, the court will likely dismiss your case, which means you will lose the ability to claim compensation for your injuries.
How Weaver Law Firm Can Help You
A knowledgeable Georgia truck accident attorney can help you keep your case on track and avoid common mistakes that could cost you money. At Weaver Law Firm, we can support your truck accident claim by:
Explaining your legal rights and options for pursuing compensation
Conducting an independent investigation of the truck accident
Identifying and preserving hard-to-find evidence, such as the truck's black box data or the driver's cell phone records
Estimating the full value of your claim as a strong starting point for settlement negotiations
Working with medical experts, accident reconstruction specialists, and financial planners to demonstrate the full extent of your losses
Communicating with trucking industry representatives and lawyers on your behalf
Negotiating aggressively for full and fair compensation for you
Representing you in court if the insurance company refuses to make a reasonable settlement offer
If you're suffering from injuries caused by a truck accident in Georgia, count on the trusted legal team at Weaver Law Firm to provide the high-quality legal services you need. Contact us today for your free consultation.