Motorcycle Laws in GA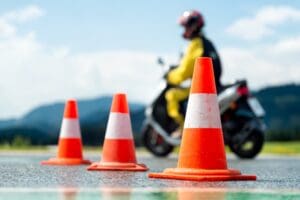 Every motorcycle owner knows how exhilarating riding can be, but it also comes with significant responsibilities. Under Georgia law, motorcycle operators must operate their motorcycle safely. Riders should also know and follow Georgia's motorcycle laws. These motorcycle traffic laws are designed to keep riders, their passengers, and others on the road safe by reducing the risk of an accident.
No matter how much precaution a motorcycle rider takes, they cannot fully protect themselves from the negligence and recklessness of other motorists. If you have been injured in a motorcycle accident that was someone else's fault, the attorneys of Weaver Law Firm are ready to help you.
For more than two decades, our firm has protected injured friends and neighbors throughout North Georgia. We care about you and your right to a full recovery after a devastating motorcycle crash. You can expect us to take the time to get to know you and understand your needs. We can help you find the medical experts you need to recover from your physical injuries. At the same time, we can handle every aspect of your legal claim for financial compensation from those responsible for the motorcycle accident and the harm that you have suffered.
Contact us for a free initial case review to learn more about how our firm can advocate for your rights and interests. If you were hurt in a North Georgia motorcycle accident, you need a lawyer who knows the motorcycle laws in Georgia inside and out.
What to Know Before Driving a Motorcycle in Georgia
Before you get on a motorcycle in Georgia, familiarize yourself with the state's motorcycle laws. Following traffic laws and other requirements for operating a motorcycle will help you avoid a traffic ticket and fines and help keep you and your passengers safe.
Specific motorcycle laws in Georgia can be found in Title 40, Chapter 6 of the Georgia Code.
In addition to learning the rules of the road, operators should also take the time to memorize the safety tips and best practices that other motorcycle riders have developed to help keep riders safe while sharing the road with other vehicles.
Georgia Motorcycle Helmet Law
Both new and experienced riders may find themselves confused when searching for a simple primer on motorcycle helmet law in GA. Despite the conflicting answers you may find online, there's a simple answer to the question. Yes, you have to wear a helmet.
Does Georgia Have a Motorcycle Helmet Law?
Georgia maintains a universal helmet law. That means that under helmet laws in Georgia, all motorcycle operators and passengers must wear protective headgear approved by the commission of motor vehicle safety at all times while riding.
Approved helmets usually include those models that have been approved by the U.S. Department of Transportation (DOT). An approved helmet will usually carry a DOT sticker to indicate its certification. Many approved helmets also bear certification stickers from reputable independent testing laboratories such as ANSI or Snell.
If you have questions about the state's motorcycle helmet laws, the Georgia lawyers at Weaver Law Firm can help.
GA Motorcycle Laws on the Road
Georgia's traffic laws include various rules and restrictions intended to keep motorcycle operators and their passengers safe while on their bikes. It's important to note that some GA motorcycle passenger laws apply to licensed operators and their passengers. Some of these rules of the road include:
"Clinging" to other vehicles
The law prohibits motorcycle riders from attaching themselves or their bike to any other vehicle while on the road. It also requires that a motorcycle operator have both hands free at all times to use both handlebars.
Footrests and handlebars
Georgia law states that a motorcycle's handlebars may not rise more than 15 inches above the operator's seat or the top of the operator's backrest.
Motorcycles must also be equipped with footrests if it is designed to carry a passenger unless the passenger is carried in a sidecar or enclosed cab.
Headgear and eye protection for riders
In addition to the Georgia helmet law requiring all motorcycle operators and passengers to wear helmets while riding a motorcycle, operators and passengers must also wear eye protection. A motorcycle must also be equipped with a front windshield unless both the operator and passenger are wearing approved eye protection. Eye protection may include goggles made from shatter-proof materials or a helmet face shield.
Georgia Motorcycle Lighting Laws
Most motorcycle riding safety tips suggest keeping the motorcycle's lights illuminated even in broad daylight. Georgia law agrees and requires riders to keep their headlines and taillights illuminated at all times.
Additional Requirements of Operating a Motorcycle in Georgia
Legally operating a motorcycle on public roads in Georgia also requires following additional restrictions and obligations. These include:
Age restrictions and licensing
A Class M instructional permit or license is required to operate a motorcycle. Georgia law defines a motorcycle as a motor vehicle with a saddle for the operator that is controlled by handlebars and travels on not more than three wheels. Tractors and mopeds (with an engine size not exceeding 50cc) are excluded from the definition of a motorcycle.
A motorcycle operator must be at least 17 years old to obtain a Class M license or at least 16 to get an instructional permit. A minor applying for a license or instructional permit must have their application form signed by a parent or legal guardian, who must also furnish a responsible adult affidavit. The minor must also present a certificate of school enrollment.
Obtaining a Class M instructional permit requires passing both a vision exam and a written motorcycle knowledge exam. This allows permitted individuals to gain experience operating a motorcycle. It restricts operation to daylight hours and prohibits a permit holder from carrying passengers or riding on limited access roadways.
To obtain a full Class M license, an applicant must pass the license test, including a road signs test, road rules test, and on-road rider skills test, or complete a Basic Rider Course. The course waives the license test requirement for up to 90 days from the completion date of the Basic Rider Course. Finally, applicants must also pass a vision test if they have not done so within the past 12 months.
Motorcycle insurance requirements
Georgia law requires persons operating a motorcycle on public roads to carry liability insurance. The minimum amount of coverage required by law includes:
$25,000 per person/$50,000 per accident in bodily injury or death liability coverage
$25,000 per accident in property damage liability coverage
Motorcycle Safety Tips
In addition to following Georgia motorcycle laws, riders can help keep themselves and their passengers safe by following these other safety tips:
Wear pants, long sleeve shirts or jackets, and gloves made from tough, durable materials such as denim or leather. Check that your footwear covers your ankles.
Choose brightly colored clothing or add reflective strips or tape to your clothing and helmet to help increase your visibility to other motorists.
Never ride a motorcycle beyond your skill level and experience. If you take extended time off from riding your motorcycle (such as during the winter months), take your vehicle to an empty parking lot or isolated street to practice and reacquaint yourself with your motorcycle's acceleration, braking performance, and handling ability. Remember to follow the motorcycle helmet laws in Georgia, even in the parking lot.
Avoid lane splitting, which is riding on traffic lines or in between lanes of vehicles. The law entitles motorcycles to the full width of a traffic lane, so use the entire space. Two motorcycles may ride side-by-side in a single lane.
Check your motorcycle every time you hit the road, including making sure that your lights and brakes work, your tires are still in good condition, and that your engine has sufficient fluid levels.
Ride defensively. Give yourself plenty of room to turn, change lanes, or stop. Ride within the speed limit or a reasonable speed for the conditions, and leave yourself an escape route when approaching or being approached by other traffic.
Never ride under the influence of alcohol or drugs or while fatigued or drowsy. If you're on a long road trip, regularly stop to get off your bike, stretch, take a walk, and drink water or eat if necessary.
Avoid driving at night and in bad weather. Motorcycles may become less visible to drivers at night, and bad weather can make controlling a motorcycle difficult. Wait until the following day or for the weather to pass if you can. If you get caught in bad weather, pull off the road as soon as it's safe to do so and wait out the storm.
Contact Our Motorcycle Accident Lawyers Today for Help
If you've been injured in a motorcycle crash in North Georgia that someone else caused, contact the motorcycle accident lawyers of Weaver Law Firm today for a free, no-obligation consultation or fill out our contact form. We can discuss your rights and options for pursuing financial compensation from those at fault for your injuries.