Hit-and-Run Accident Attorney in Murrayville, GA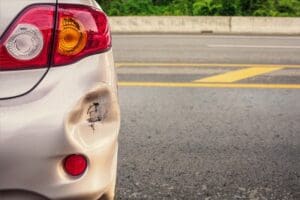 It can be challenging to pursue the compensation you deserve when you're injured in a crash caused by a driver who flees the scene. Without their name and insurance information, you can't file a liability claim to pursue a settlement for your medical treatment, lost income, suffering, and other losses. However, it's important to know you still have legal options after a hit-and-run crash in Murrayville.
At Weaver Law Firm, we understand how overwhelming the aftermath of a hit-and-run accident can be. You may be injured, in shock, and confused about what steps you can take to pursue financial recovery. An experienced hit-and-run attorney at our law firm can provide the legal advice and guidance you need to move past this traumatic experience.
Weaver Law Firm has represented accident victims in the Murrayville area of Georgia for more than two decades. We believe in helping injured clients get back on their feet after suffering injuries due to other people's negligent actions. You can depend on our team to advocate for your interests and fight for you at every step of the legal process.
Contact us today for a free consultation with a knowledgeable and trusted Murrayville hit-and-run accident lawyer.
What Is a Hit-and-Run Accident?
It's against the law to flee the scene of a crash and can result in an expensive fine and even time in prison.
According to Georgia Code 40-6-270, a hit-and-run happens when a person involved in a motor vehicle accident does not stop at the scene to assist anyone suffering injuries and provide the necessary information, such as their name, address, and vehicle registration number.
It is your right to hold the hit-and-run driver liable for their conduct and seek the maximum compensation possible to cover your medical bills and other expenses. However, locating the negligent motorist could be challenging. Since they left the accident scene before you could obtain their name, contact information, and auto insurance details, you could face obstacles seeking the money you're owed.
Uninsured Motorist Coverage and Hit-and-Run Crashes
If you can track down the at-fault motorist, you could file a claim with their auto insurer. State law requires all drivers to carry liability coverage.
When a hit-and-run driver cannot be located, injured accident victims may be able to pursue compensation through their own uninsured motorist (UM) coverage. Georgia does not require drivers to purchase UM coverage. However, insurance carriers must offer it to their policyholders.
UM insurance pays for victims' losses when they're injured in an accident caused by an uninsured driver. UM insurance will also cover accidents caused by a hit-and-run driver, who is classified as "uninsured."
If you included UM insurance on your policy, you could file a claim to recover the compensation you need to cover the losses you suffered, such as:
Medical bills
Lost wages 
Lost earning capacity
Pain and suffering
Property damage
You should speak with Weaver Law Firm immediately after a hit-and-run crash to determine the available insurance coverage. We can review insurance policies and calculate the value of your case. Our goal is to pursue a full and fair settlement to compensate for the economic and non-economic losses you suffer.
Why Do I Need a Hit-and-Run Accident Lawyer?
Since proving fault in a hit-and-run accident case can be complicated, it's best if you hire a lawyer to help. At Weaver Law Firm, our legal team has the experience and resources to locate evidence to show someone else was responsible for the injuries you suffered.
Our lawyers have the resources to conduct a thorough investigation of the crash. We can work to gather the evidence we need to prove what happened, such as:
Photos of the accident scene and damaged vehicle
Traffic camera or surveillance camera footage
Copies of your medical records and medical bills
Statements from eyewitnesses
Testimony from expert witnesses
Information from the police report
We can then file a claim on your behalf and negotiate with the insurance carrier for a fair settlement. If they fail to offer an adequate amount or deny your claim altogether, we will be fully prepared to proceed with a lawsuit.
Statute of Limitations for Georgia Hit-and-Run Cases
You can sue the at-fault driver if you're able to track them down. However, there is a strict timeframe called a statute of limitations you must follow if you want to file a lawsuit.
Georgia has a two-year statute of limitations for personal injury cases, including hit-and-run accidents. That means you must file your lawsuit within two years of the crash date to seek compensation for your losses.
What Should I Do If I Get Hurt in a Hit-and-Run Accident in Murrayville, GA?
You need to take immediate action after sustaining injuries in a car accident involving a hit-and-run driver. Call 911 for an ambulance to transport you. Even if your injury doesn't seem too severe at first, you should still seek medical attention as soon as you leave the crash site.
Once the physician evaluates your condition and diagnoses your injuries, follow up with any medical providers they recommend, such as a physical therapist, surgeon, chiropractor, or rehabilitation specialist. You should continue to attend your doctor's appointments regularly until you heal or your doctors release you from their care.
Contact our experienced hit-and-run accident law firm in Murrayville as soon as possible. At Weaver Law Firm, we can take on responsibility for your case so that you can focus on your treatment. We are prepared to handle every step of the legal process from start to finish and try to hold the at-fault driver liable or work to secure a fair settlement from your UM insurance company.
Evidence is crucial in any car accident case, so you should maintain all documents you receive during your claim. Keep copies of your medical records, bills, out-of-pocket expenses, and other documentation to show someone else was at fault for your injuries.
Contact a Weaver Law Firm Hit-and-Run Accident Lawyer in Murrayville
If you suffered injuries in a hit-and-run accident due to someone else's negligence, contact Weaver Law Firm right now. Our Murrayville hit-and-run accident lawyers are ready to fight for the justice and compensation you deserve.
Contact us today for a free consultation.