Gainesville Workers' Compensation Lawyer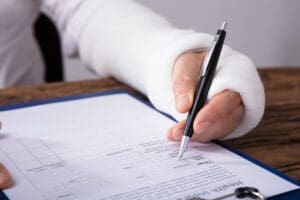 Have you been injured in a workplace accident in Gainesville, Georgia? If so, you could be entitled to claim workers' compensation benefits. Workers' compensation is a form of insurance your employer pays for. It could provide you with medical, rehabilitation, and income benefits if you are hurt on the job in Gainesville.
A workplace injury can impact your health and livelihood. At Weaver Law Firm, we are proud to advocate for injured workers in Gainesville and surrounding areas of Georgia. Our experienced workers' compensation attorneys are committed to providing vigorous legal representation to people who've been hurt on the job in our community.
Call now or contact us using our online form for a free and confidential consultation.
Am I Eligible for Workers' Compensation Benefits?
In Georgia, employers with more than three employees are legally required to have workers' compensation. The majority of workers in Georgia are eligible for workers' compensation benefits. However, you need to consider some restrictions. A Gainesville workplace injury lawyer at Weaver Law Firm can help determine if you are eligible and what steps you should take to seek full benefits.
How to File a Workers' Comp Claim in Gainesville
If your workplace injury qualifies for Georgia workers' compensation benefits, follow these steps to file a workers' comp claim:
Report the accident to your employer. Report the injury to your supervisor as soon you can. You must report your injury within 30 days or you risk having your claim denied. When you report the injury, include:

When the accident occurred
Details about the accident
Any symptoms you are experiencing

Seek medical treatment. Request a doctor from your supervisor. Even if you have your own doctor, you need to see a doctor approved by your employer's insurance company. Make an appointment with that doctor and describe how the workplace accident occurred. When you receive treatment for your injuries, it is critical to your claim that you follow all your doctor's orders. If you do not, the doctor may report that to the workers' comp insurance company, which could result in the suspension of your benefits. Make sure you take all medications and don't miss any follow-up appointments. Don't return to work unless the doctor has approved you to do so.
File a workers' comp claim with the Georgia State Board of Workers' Compensation. To file a claim, you will need to fill out Form WC-14 and file it with the State Board of Workers' Compensation. Be sure to send a copy to your employer and their workers' comp insurance company.
What Do Workers' Comp Benefits Cover in Gainesville?
Workers' comp benefits help cover medical expenses associated with work-related injuries or occupational illness. Workers' comp can also provide disability benefits and replace a portion of missed wages if you need time off work to recover.
Types of workers' comp benefits available in Georgia include:
Medical benefits, including doctor and specialist visits, treatment, hospitalization, physical therapy, diagnosis tests, and medications
Mileage reimbursement for travel to doctor's appointments
Lost wages
Temporary total disability benefits
Temporary partial disability
Impairment benefits
Permanent total disability benefits
Death benefits
How Long Do You Have to File a Workplace Injury Claim?
Injured workers in Georgia are required to notify their employer of an injury within 30 days. The statute of limitation determines the length of time you have to file a claim. In most cases, you have only one year from the date the workplace injury or occupational illness was discovered – or reasonably should have been discovered – to file a claim for workers' comp benefits.
What Do I Do If My Workers' Comp Claim Is Denied?
If your workers' comp claim has been denied, you have a right to request a reason for the denial and file an appeal.
Keep in mind that just because you receive a denied claim does not mean that you are not entitled to workers' comp benefits. You can file a request to have a hearing before the State Board of Workers' Compensation. An Administrative Law Judge will hear your claim and decide on your injuries and whether you should receive benefits.
The judge will listen to both your side of the case, which is why you must have plenty of evidence to back up your claims and show the extent of the injuries you sustained on the job. The experienced Georgia workers' compensation lawyers at Weaver Law Firm are ready to help you appeal a denial.
Tips for Protecting Your Rights After an Injury at Work
If you have been injured on the job in Gainesville, taking the following steps can help protect your rights:
Notify your employer. Notify your supervisor or employer about the injury as soon as you can. It is highly recommended you do so in writing so that you have documentation that you gave notice. Don't wait to report the injury. Delays might derail your claim. By law, your employer is required to submit a First Report of Injury form to the State Board of Workers' Compensation. You can request a copy for your records.
Follow through with medical attention. You need to get medical treatment for your injuries, no matter how small they may seem at first. This will make sure you receive proper medical care. Follow the prescribed course of treatment and don't miss appointments. Medical records can protect you if there are disputes with your employer's workers' comp insurance carrier regarding whether your injuries were work-related.
Be honest about how you were injured and what your symptoms are. Doctors typically record a description of how the injury happened in their records. This is additional documentation that you got injured while on the job. Be specific about what you were doing when you were injured, where it hurt, and what symptoms you have experienced. Reporting all symptoms will ensure they are properly documented and treated.
Speak with an experienced Gainesville workers' comp lawyer. If you have suffered an injury at work, no matter its severity, you need to seek assistance from a highly skilled and knowledgeable Georgia workers' compensation attorney. At Weaver Law Firm, we have extensive experience in handling workplace injury cases. We are ready to give you important legal advice and ensure you are on the right path and not saying or doing anything that could undermine your case.
Workers' Comp FAQs
At Weaver Law Firm, we get many questions from injured people regarding Georgia workers' compensation cases. Some of the most frequently asked questions include:
How long does it take to receive workers' comp benefits?
After submitting your claim, your employer's workers' comp insurance company is supposed to start paying your benefits. Your first check should arrive in the mail within 21 days after the first day you missed work due to the injury. In general, an injured worker in Georgia can receive workers' comp benefits for up to 400 weeks.
Can you file a personal injury claim after a work injury?
In Georgia, you can file a personal injury lawsuit against a third party (someone other than your employer or co-workers) that is at fault for your workplace injury. However, you cannot file a lawsuit directly against your employer because workers' comp is the only remedy. An injured employee can bring a lawsuit against the employer only in very rare situations involving intentional harm.
What are the most common workplace injuries?
Many different types of injuries are possible in the workplace. Some of the most common workplace injuries in Gainesville include:
Back injuries
Joint injuries
Broken bones
Carpal tunnel syndrome
Traumatic brain injury (TBI)
Chronic pain
Tendonitis
Vision loss
Overexertion
How much does it cost to hire a workers' comp lawyer in Gainesville?
Workers' comp lawyers work on a contingency fee basis. This means we provide workplace injury victims with legal representation for no upfront costs and instead take our fees out of the settlement you receive when the case is resolved. At Weaver Law Firm, we do not get paid unless you get paid.
How Our Gainesville Workers' Comp Lawyers Can Help You
The Gainesville workers' compensation lawyers at Weaver Law Firm stand ready to help you in various ways. We can help you meet deadlines for notifying your employer of your injury and filing your claim. Your claim may be denied if you miss a deadline. Also, an insurance company may not provide you all of the benefits you are entitled to. Having one of our skilled and knowledgeable workers' compensation lawyers in your corner helps ensure that your rights are protected as you seek the maximum benefits under the law.
No matter what type of injury you suffered at work, it costs nothing to discuss your case with the workers' comp attorneys at Weaver Law Firm. We will provide legal advice during your free and confidential consultation and help you understand all your options. Call now or contact us using our contact form for a free consultation so you can learn more about how we can help you with your workers' comp case.