Gainesville Motorcycle Accident Attorney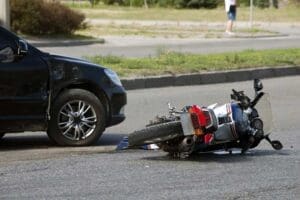 While riding a motorcycle can be a thrilling way to get around in Georgia, particularly in good weather, it can also be dangerous. According to the National Highway Traffic Safety Administration (NHTSA), 5,014 motorcyclists were killed in just one recent year. Motorcyclists were roughly 29 times more likely to be killed in a traffic accident than occupants of passenger vehicles.
If you've been injured in a motorcycle accident caused by someone else, help is available. The Gainesville motorcycle accident attorneys at Weaver Law Firm have the knowledge and experience to help you hold the at-fault party accountable for their negligence and pursue the compensation you deserve.
Contact Weaver Law Firm today to discuss your case. We offer a free consultation so you can review your legal options with a member of our team.
Do You Have a Motorcycle Accident Claim?
Georgia is a "fault" state for auto insurance, which means if you are injured in an accident caused by someone else, you have a legal right to file an accident claim against the driver whose negligence led to the crash. In Georgia, the at-fault driver is liable for the losses resulting from the accident.
As long as you can show that the other party was responsible for the crash due to their carelessness or other legal fault, you can pursue compensation from them through an insurance claim or personal injury lawsuit.
How Is Fault Determined for a Motorcycle Crash in Gainesville?
Determining fault in a motorcycle crash can be challenging, especially if the person who caused the accident refuses to accept liability or tries to shift the blame to you. You need the assistance of an experienced personal injury attorney to conduct a full investigation into the accident and gather evidence that establishes liability.
You will need to show that the other party was negligent to prove liability. Negligence has several components. First, you need to demonstrate that the driver who hit you had an obligation to use reasonable care to avoid causing you harm. Second, you must show that the motorist failed to uphold that obligation through some form of negligence. For instance, if they ran a red light and rammed into you as you were legally crossing an intersection, that could be negligence.
Third, you need to demonstrate that because the driver was negligent, they caused the accident that resulted in your injuries. In the above scenario, your attorney might be able to use traffic camera footage and witness statements to prove that the driver ran a red light, thereby causing the crash that resulted in you being harmed.
Lastly, you have to show that you suffered compensable losses due to the accident. Compensable losses might be financial or non-financial. For instance, if you incurred medical expenses or suffered post-traumatic stress disorder (PTSD) after the accident, those losses could be considered compensable.
The Most Common Causes of Motorcycle Accidents
Some of the most common causes of motorcycle crashes include:
● Distracted driving
● Drunk or drugged driving
● Driver fatigue
● Speeding or driving too fast for conditions
● Tailgating or following too closely
● Aggressive driving
● Mechanical failures
Because motorcycles aren't nearly as big as passenger cars, trucks, and buses, motorists may sometimes fail to notice motorcycles at all. Driver negligence plays a major role in most traffic accidents, and motorcycle accidents are no exception.
Common Injuries Suffered by Motorcycle Riders in Gainesville
Unlike other motorists, who can rely on safety features like airbags and seat belts to protect them from the force of a collision, motorcyclists have little more than their helmets and clothes. As a result, motorcycle riders are usually directly impacted during a crash. In some instances, they may even be thrown from their bikes, sustaining severe injuries.
Some of the most common injuries motorcyclists suffer include:
● Traumatic brain injuries
● Back and spinal cord injuries
● Whiplash and other soft-tissue injuries
● Broken bones
● Internal injuries
● Cuts, scrapes, and lacerations
● Road rash and other types of burns
If you were injured in a motorcycle accident, it's important to seek medical attention as soon as possible. Some types of injuries, like internal organ damage, aren't always immediately obvious, but a doctor may be able to detect them before complications develop.
Motorcycle Accident Statistics in Gainesville, Georgia
According to the Georgia Department of Driver Services (DDS), motorcycle accident deaths have increased in recent years. They note that motorcycle accident fatalities rose from 139 to 179 in a recent four-year period, an increase of nearly 30 percent.
DDS also noted a staggering 3,948 motorcycle accidents across the state in a single recent year, involving 4,269 motorcycle riders. More motorcycle accidents occurred in the Atlanta region than anywhere else in the state. According to DDS, Fulton, DeKalb, Gwinnett, Cobb, and Bibb counties saw the highest rates of motorcycle accident-related deaths in the state.
What Compensation Can Be Recovered After a Motorcycle Wreck?
You could be eligible to recover compensation if you were injured in a motorcycle wreck caused by another person's negligence. Through a third-party insurance claim or personal injury lawsuit, you could seek compensation for:
● Present and future medical expenses
● Physical therapy costs
● Lost wages if you had to take time off work to recover
● Reduced earning capacity if you are temporarily or permanently disabled due to the accident
● Pain and suffering and other non-financial losses
● Property damage
You shouldn't have to navigate the claims process on your own, especially while you are injured. A motorcycle accident attorney can handle all communications with the insurance company and negotiate aggressively for settlement on your behalf. A skilled attorney can leverage the strength of the case they build for you to seek the full and fair compensation you deserve.
Statute of Limitations on Motorcycle Accident Lawsuits in Gainesville
Georgia has a two-year statute of limitations for motorcycle accident lawsuits. You must file your lawsuit within this time frame, otherwise a court will probably dismiss your case. While most personal injury cases settle before a lawsuit is ever filed, it's important to remember that the clock usually starts ticking on the day you suffered your injuries. If you cannot reach a settlement agreement with the insurance company, then you will need to file a lawsuit before the deadline passes.
Contact Our Experienced Gainesville Motorcycle Accident Lawyers for Help Today
Are you a motorcyclist who was injured in an accident due to another driver's negligence? If so, contact the Gainesville motorcycle accident lawyers at Weaver Law Firm today. We have extensive experience helping victims of motorcycle crashes pursue the compensation they need to get their life back on track after an accident.
Contact us today for a free case review.