Distracted Driving Attorneys in Gainesville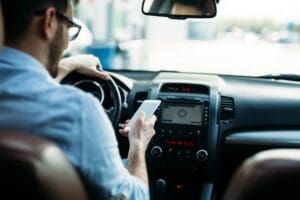 Distracted driving is one of the most common causes of traffic accidents across the United States, and the same is true here in Georgia. If you were injured in an accident caused by a distracted driver, you could be entitled to recover compensation for medical expenses, lost earnings, pain and suffering, and more.
Expenses can quickly begin to pile up after an accident. If you aren't able to work, you could quickly become buried in debt. You shouldn't have to suffer financially if you weren't at fault for an accident. The attorneys at Weaver Law Firm have the knowledge and resources to help you pursue the fair compensation you need to recover from your injuries and rebuild your life.
Contact us today for a free consultation to discuss your distracted driving accident case and your legal options with an experienced attorney.
What Is Distracted Driving?
Distracted driving occurs when road users divert their attention away from the task of driving and toward another activity. According to the Centers for Disease Control and Prevention, the three main types of distracted driving are visual, manual, and cognitive.
Visual distraction – Visual distractions include anything that causes drivers to take their eyes off the road while behind the wheel, such as turning around to talk to passengers or looking at a billboard.
Manual distraction – Manual distractions cause a driver to take their hands off the steering wheel. Some common manual distractions include adjusting the radio, recalibrating a GPS while driving, or personal grooming.
Cognitive distraction – Cognitive distractions cause a driver to take their mind and focus off the task of driving. Common cognitive distractions include daydreaming and talking on the phone.
Many driving distractions are a combination of two types, and some even qualify as all three types. For instance, texting is a visual, manual, and cognitive distraction because it causes a person to take their eyes off the road, their hands off the wheel, and their mental focus off the task of driving.
Most Common Examples of Distracted Driving
Distracted driving can take many forms, but they all involve taking the driver's attention off f the road ahead. Some of the most common examples of driver distractions include:
Texting while driving
Talking on the phone
Eating and drinking
Conversing with passengers
Reading
Watching videos
Holding a pet
Adjusting the radio or GPS device
Combing hair, shaving, applying makeup
Looking at billboards, accident scenes, or construction zones
How to Prevent Texting and Driving Crashes
Because texting and driving auto accidents are so common in Gainesville and throughout Georgia, it is crucial for drivers to understand how to prevent them. Some tips for avoiding texting and driving crashes include:
Consider putting your phone on silent while driving. If you can hear your phone receive a text or a call, you'll be much likelier to answer it.
You can also completely shut your phone off while driving and then stow it away.
Put your phone away in a console, glove compartment, or another area where it is out of reach while driving. That will prevent you from being tempted to send a text or check social media while driving.
Using an app designed to prevent you from texting while you are driving. Consider installing one of these apps on your phone.
Distracted Driving Statistics in Gainesville, Georgia
Across the United States, distracted driving accidents took the lives of 3,142 individuals in just one recent year, according to National Highway Traffic Safety Administration (NHTSA) data. Electronic devices, in particular, have played a significant role in distracted driving car accidents over the past two decades.
A study showed that 2.6 percent of passenger vehicle drivers used handheld phones while driving. Although this percentage has decreased over the last 10 years, 2.6 percent still represents about 354,415 passenger vehicle drivers holding a cell phone to their ears at any given moment.
In addition, about 7.9 percent of drivers were found to be using some type of phone while driving during the day, whether they were holding it or using a hands-free device.
Distracted Driving Laws in Gainesville
Georgia passed a "hands-free" law on cell phone use that states:
Drivers aren't permitted to hold or allow their mobile devices to touch their bodies when talking on the phone while driving.
Drivers also cannot use hands-free technology to write, read, or send texts, emails, or social media content while driving, though voice-to-text is permitted.
Drivers are prohibited from watching videos while driving. Drivers are also prohibited from recording videos.
Drivers cannot physically touch their phone to use a music streaming app while driving.
Distracted Driving Accident FAQs
How can I prove the other driver was texting?
If you believe a texting driver caused your accident, you will need to show evidence to back up your claim. Your attorney can begin gathering evidence as part of their investigation into the accident to show that a driver was texting before an accident. Some common types of evidence that can be used include surveillance footage from nearby security cameras, cell phone records, and witness statements.
How do I get compensated by a distracted driver?
If you were injured in an accident a distracted driver caused, you could be entitled to financial compensation. Compensation is designed to cover costs related to the accident and your injuries, such as:
Medical bills, including hospital bills, physical therapy costs, and more
Lost earnings if you are unable to return to work
Pain and suffering, including PTSD, emotional anguish, mental distress, and loss of enjoyment of life caused by the accident
Property damage, such as damage to your vehicle
Wrongful death benefits when a family member dies in a distracted driving accident that was someone else's fault
Punitive damages in exceptional cases
Georgia is a fault state, which means to pursue compensation, distracted driving accident victims need to file an insurance claim with the insurance company that covers the at-fault driver. Negotiating a settlement with the insurance company is usually far from straightforward. Insurance companies use many different tactics to try to reduce or even deny your claim. That's why it is crucial to get legal help from a Gainesville personal injury lawyer involved before negotiations even begin.
Your attorney will present evidence from their investigation to bolster your case and negotiate aggressively on your behalf with the insurance adjuster. By consulting with a car accident lawyer, you will have a much better chance of getting the compensation you deserve. If your attorney cannot reach a fair settlement with the insurance company, they will not hesitate to pursue compensation through a personal injury lawsuit.
What is "electronic" distracted driving?
Electronic distracted driving occurs when drivers use electronic devices while driving, diverting their attention away from the road. Common examples include texting, talking on the phone, using a GPS while the vehicle is in motion, and using music streaming app. Electronic distracted driving, and texting in particular, is one of the most common causes of distracted driving accidents.
Contact Our Experienced Gainesville Car Accident Lawyers Today
If you have been injured in an accident due to someone who wasn't paying attention, the Gainesville personal injury attorneys at Weaver Law Firm want to help. Our lawyers have what it takes to protect your rights and help you pursue the compensation you deserve after a crash due to driver distraction.
Contact us today for a free consultation for free legal advice and more information about how we can help you seek compensation.