Murrayville Truck Accident Attorney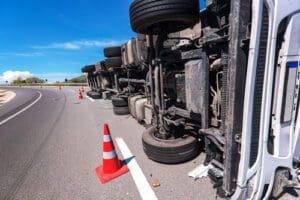 Truck accidents can be particularly devastating for people in smaller vehicles. When large trucks are involved in collisions, occupants of cars and pickups invariably suffer more than truck drivers do. According to National Highway Traffic Safety Administration (NHTSA) data, 71 percent of individuals killed in large truck crashes in one recent year were occupants of other vehicles.
In addition to being more severe, truck accidents are also becoming more common. According to the same NHTSA fact sheet, 4,951 people were killed in accidents involving a large commercial truck in just one year. This was a nearly 1 percent increase in fatalities from the year prior. And truck accident fatalities increased a stark 5 percent from 2016 to 2017.
If you have been involved in a truck accident in the Murrayville area, the truck accident attorneys at Weaver Law Firm want to help you. Investigating a truck accident can be incredibly challenging, and liability is not always clear-cut. We have the skills and the experience to help you build a strong case for compensation and seek financial losses caused by the accident.
Contact us now for a free and confidential consultation.
What Makes Truck Accidents So Complicated?
Truck accident lawsuits are extremely complex. That is because many more factors are at play and potentially more parties could be at fault than in a typical accident involving two passenger vehicles.
While truck driver negligence is often to blame for accidents, determining liability isn't always straightforward. Other entities – including the trucking company the driver works for, the owner of the truck, the manufacturer of any defective parts, truck cargo loaders, and truck maintenance companies – could potentially be implicated when a truck accident occurs.
In addition to the challenges of determining liability, truck accidents may also involve multiple insurance policies, which means negotiating with multiple insurance adjusters. Negotiating a fair settlement with one insurance company is challenging enough, but this is compounded when multiple parties are liable. With coverage limits that are often much higher on trucks, more money is at stake. You can count on the insurance companies to fight hard.
Truck accidents usually involve much more evidence that attorneys need to sift through to build a case. Examples include truck driver logs, driver training and history records, truck maintenance records, and truck "black box" data.
Why You Need a Lawyer After a Truck Accident
Owing to the complex nature of truck accidents and the possibility of multiple at-fault parties, it is important to hire an experienced truck accident attorney. A seasoned attorney will have the knowledge and resources to thoroughly investigate the accident, determine liability, and build a strong case on your behalf. An attorney will also know how to negotiate for a fair settlement. If a fair settlement cannot be reached, your attorney can pursue your case in court.
Common Injuries Caused by Truck Wrecks in Murrayville
Commercial trucks can weigh up to 80,000 pounds when they are fully loaded, while most cars and light trucks weigh a meager 3,000 to 5,000 pounds. Due to their colossal size, weight, and forward momentum, commercial trucks can cause catastrophic injuries in collisions.
Some of the common injuries that occur as a result of truck accidents include:
Traumatic brain injuries (TBIs)
Spinal cord injuries
Paralysis
Internal injuries
Back and neck injuries
Whiplash
Broken bones
Rib and torso injuries
Burns
Amputation
Disfigurement
Cuts, bruises, lacerations
Who Can Be Responsible in a Truck Accident Case?
While negligence on the part of the truck driver is usually at least partly to blame when an accident occurs, driver negligence is not always the only contributing factor. In some cases, multiple parties could be liable. They may include:
The truck driver – The most obvious liable party is the truck driver. If the truck driver engages in reckless driving behaviors, breaks the speed limit, gets distracted, or is otherwise negligent in their duty of care to protect other motorists on the road, then drivers can be held liable for any accidents that occur as a result.
The trucking company – The trucking company could be held liable, even if the driver was negligent. For instance, trucking companies often pressure truck drivers to ignore federal hours of service regulations to make more deliveries and increase profits. This can cause truck drivers to become tired and distracted, which in turn can lead to accidents. Trucking companies can also face liability for their hiring, retention, and training practices. If the at-fault driver was an employee of the trucking company, the company could be held vicariously liable regardless of whether the company was directly at fault.
The owner of the truck – Sometimes, a trucking company leases its fleet from a third party. In that case, it's possible that the owner of the truck could be held responsible for an accident if the owner of the truck provided a vehicle that was not safe for use.
The cargo loader – If a truck's cargo shifts, falls, or otherwise triggers a crash, then the cargo loaders could potentially be held responsible.
A parts manufacturer – If a truck accident occurs due to defective parts, then the parts manufacturer could potentially be held responsible for the crash.
The truck maintenance provider – If the truck maintenance company failed to inspect or maintain the truck properly and an accident resulted from their negligence, the company could be held liable.
Causes of Truck Accidents in Murrayville
Every truck accident is unique, but some of the most common causes of truck accidents in Murrayville include:
Distracted driving
Aggressive or reckless driving
Speeding
Tailgating
Drunk driving
Drowsy driving
Defective truck parts
Poor truck maintenance
Poor cargo loading
Types of Damages for Which a Victim Should Be Compensated
If you have been involved in a truck accident, then you could be entitled to compensation to cover both financial and non-financial losses related to the accident, such as:
Medical bills
Physical therapy expenses
Lost wages due to inability to work
Pain and suffering
Loss of enjoyment of life
Funeral costs
Punitive damages, if appropriate
Vehicle damage
Time Limit for Filing a Truck Accident Lawsuit in Georgia
In Georgia, you typically have two years from the date of the truck accident to file a personal injury lawsuit. Due to the short statute of limitations, getting the claims process started as soon as possible is imperative.
What to Do After a Semi-Truck Accident
After suffering a severe injury in a truck accident, the weeks that follow can be overwhelming and a time of confusion. Knowing a few simple but crucial steps you can take to protect your rights can give you peace of mind and help you to avoid common pitfalls that could hurt your claim.
Follow your doctor's advice. Attend all of your medical appointments, see every specialist that's recommended, and follow your doctor's treatment plan. Doing so will show that you're doing everything you can to recover.
Hold on to evidence. Safeguard all of the documents and information you have related to the accident, such as accident scene photos and videos, a copy of the police report, and pay stubs showing your income loss.
Gather medical documents. Keep every medical document, including records of any treatments, surgeries, procedures, tests, medical bills, physical therapy invoices, prescription labels, and other relevant documents.
Take notes about your pain and disability. Consider keeping a journal to track your injuries and document the recovery process. This could be used as evidence in your claim later on.
Refrain from posting on social media. Don't discuss the accident on social media platforms or in any online forums. Remember, the insurance companies may try to use anything you say about the accident against you. Don't give them the opportunity.
Consult with an attorney. The sooner you have a skilled attorney on your side, the sooner they can start investigating the accident and gathering evidence while it's still available.
Talk to a Truck Accident Lawyer in Murrayville Now
Reach out to one of our dedicated truck accident attorneys at Weaver Law Firm today. We are prepared to review your case, thoroughly investigate the accident, identify the liable parties, and craft a winning legal strategy to help you pursue the compensation you need to recover. Contact us today for a free consultation.