Murrayville Motorcycle Accident Lawyer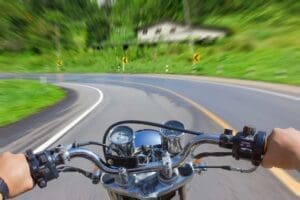 Were you injured in a motorcycle accident in Murrayville, Georgia? If someone else's carelessness caused the crash, you could be entitled to significant financial compensation for your losses.
Some people wrongly assume that accidents involving motorcycles are the motorcyclist's fault. That is primarily due to the inaccurate portrayal of bikers as reckless outlaws on TV and in the movies. In reality, that is far from the truth. The majority of motorcycle riders are regular people who are passionate about their vehicles and the freedom they allow. While the motorcycle rider might be at fault for some accidents, many others are due to other motorists who are distracted, intoxicated, drowsy, or otherwise negligent.
Weaver Law Firm's Murrayville motorcycle accident lawyers have over 20 years of experience helping crash victims demand compensation for their injuries. We've recovered significant compensation for our clients and have received widespread recognition from our peers.
If you've been hurt, turn to a legal team with the experience to handle your case. Contact the Murrayville motorcycle attorneys of Weaver Law Firm now. The consultation is free and confidential.
How Is Fault Determined After a Motorcycle Crash in Murrayville?
Many people think it's the police who determine fault for a motorcycle accident, but that's not actually the case. While police can issue citations for traffic offenses, civil liability is a different matter. It's up to the insurance companies and ultimately the courts to determine who should be held financially liable for a crash.
In civil lawsuits, including personal injury claims, fault is based on the concept of negligence. In a nutshell, someone is considered negligent if they had a legal duty to avoid injuring another party if reasonably possible, and they failed in that duty. If the evidence shows another person could have avoided injuring you in a motorcycle accident and failed to do so, you could have a case for a personal injury claim.
If more than one party shares fault for an accident, the Georgia law uses a comparative negligence model to determine who will pay what compensation to whom. For example, if you're found to be 20 percent liable for an accident, you would lose 20 percent of your compensation.
The Most Common Causes of Motorcycle Accidents
Factors outside the motorcycle rider's control cause many motorcycle accidents. Some of the common causes of motorcycle accidents in Murrayville include:
Driver negligence — Other drivers acting negligently is one of the most frequent causes of motorcycle crashes. Many drivers see motorcyclists as second-class citizens on the road and treat them poorly. Some examples of driver negligence that could cause an accident include following too closely, speeding, distracted driving, weaving through traffic, not checking blind spots, and cutting off motorcyclists when passing.
Impaired driving — Other drivers impaired by alcohol or drugs present a significant safety hazard to motorcyclists. Impaired drivers are more likely to not notice a motorcyclist around them as they're driving. Driving impaired also means a likelihood to engage in risky behavior that could cause accidents.
Inclement weather — Because most motorcycles have just two wheels, they are more susceptible to the effects of bad weather. Rain, snow, ice, or other precipitation can make it challenging for motorcyclists to control their vehicles.
Road hazards and poor road conditions — Loose sand, gravel, and other hazards in the roadway can cause a motorcyclist to spin out and crash. Motorcyclists are also more likely to suffer accidents in work zones, as the narrow lanes give them less room to maneuver and avoid other vehicles.
Common Injuries Suffered by Motorcycle Riders in Murrayville
Because motorcyclists aren't as protected from accidents as people in cars, they often suffer severe injuries in accidents, including:
Traumatic brain injuries
Spinal cord injuries
Lower-extremity injuries
Internal injuries
Fractures
Road rash
Disfigurement
Amputated, crushed, or severed limbs
Neck and back injuries
Psychological distress
Motorcycle Accident Statistics in Murrayville
The Governor's Office of Highway Safety reports that in one recent year, motorcycle riders made up 21 percent of all driver fatalities statewide and 11 percent of all traffic fatalities overall. State officials also say the rate of fatal motorcycle accidents is increasing, rising from 68.2 deaths per 100,000 motorcycle registrations to 83.6 deaths per 100,000 registrations over a recent two-year period.
What Compensation Can Be Recovered After a Motorcycle Wreck?
Victims of motorcycle crashes due to someone else's negligence could be entitled to compensation including:
Economic – This is compensation for your losses in an accident that have a defined dollar value. For example, you can recover compensation for your medical bills and other expenses, which can be significant. Other types of compensation that fall under economic damages include money for lost wages and your damaged personal property.
Non-economic – This is compensation for things you've lost in an accident that are harder to assign a specific value to, but are just as real. Non-economic damages include payment for things like the pain you've suffered from your injuries and any psychological distress you may be dealing with, such as PTSD. An experienced motorcycle accident lawyer can help you find the evidence you'll need.
Punitive – Punitive damages are additional compensation that can be awarded in personal injury claims that go to trial. A judge or jury might award this compensation to punish the defendant and deter others from engaging in similar behavior. In most instances, the defendant was willfully or especially egregious in their conduct to warrant this type of compensation.
How Long Do You Have to File a Motorcycle Accident Lawsuit in Murrayville?
You have two years from the date of a motorcycle accident to file a lawsuit. If you wait any longer, your case will be automatically dismissed, and you'll lose your chance to recover any compensation.
Contact Our Experienced Murrayville Motorcycle Accident Lawyers for Help Today
The Murrayville motorcycle accident lawyers at the Weaver Law Firm are here to help if you've been hurt. We're ready to put our knowledge and resources to work for you. Contact us for a free consultation right away.