Cumming Workers' Compensation Attorney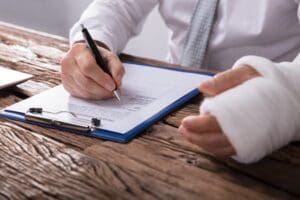 If you have been injured on the job or become ill as a result of your work in Cumming, Georgia, you may be eligible for workers' compensation.
In Georgia, any business with three or more workers is legally required to carry workers' compensation insurance that provides employees who are injured on the job with medical treatment, rehabilitation, and income-replacement benefits.
Employees are eligible for workers' compensation regardless of who is at fault for the accident. Handling the workers' compensation process, however, can be complicated for employees, which is why it can be helpful to employ the guidance of a knowledgeable Cumming workers' compensation lawyer.
The workers' comp attorneys at Weaver Law Firm are ready to assist you throughout the process. Contact us now for a free claim review and advice about your best options.
Common Work Injuries and Accidents in Cumming
While each situation is unique, certain situations result in more common injuries and accidents than others. Common work injuries and accidents in Cumming include:
Overexertion – This is often the result of activities such as lifting, pushing, turning, holding, carrying, or as the result of strenuous repetitive action, such as working in an assembly line or even using a computer.
Slip and falls – These types of injuries can occur due to slick, wet, or icy floors or unsafe ladders, stairs, or platforms.
Contact with objects and equipment – In these scenarios, an employee may be hit by an object, crushed, caught, or injured due to friction. This may occur when an object falls, rolls, or flies and can result in head injuries, cuts, bruises, bone fractures, and other serious injuries.
Electrocution – Another example of contact with objects, electrocution may occur due to contact with machinery such as trash compactors, balers, or forklifts. Lightning strikes can also cause electrocution. These can be especially damaging injuries.
Car and truck crashes – These accidents pose a particular risk to commercial drivers and those working in construction, agriculture, and mining.
Workplace violence – This is not particular to any industry and can occur in any workplace.
According to the National Safety Council, injuries due to overexertion and bodily reactions, slip and falls, and contact with objects and equipment account for approximately 84% of all work-related injuries that result in missed work. If you were injured in any type of workplace incident, you may have grounds for a workers' compensation case.
While the injuries described above are more common, the list is not exhaustive. Even if you have been injured in a scenario not described above, you may still have a case and should contact our Cumming workers' comp lawyers to learn more about your legal options and rights.
Types of Workers' Compensation Benefits
Workers' compensation typically affords the following benefits to injured employees:
Medical expenses for both short-term and long-term care – This may include procedures such as X-rays, surgeries, medications, and other treatments. The employee should not have any co-pays. Workers' compensation should cover all expenses.
Rehabilitation costs such as occupational and physical therapy.
Expenses related to travel for medical care – Whether this is the cost of the ambulance or the cost of traveling back and forth to ongoing appointments, workers' compensation should cover travel expenses.
Income loss due to missed work – This is typically two-thirds of the average weekly wage. In Georgia, it is capped at $675 a week as of 2021.
Expenses related to a permanent total or permanent partial disability that limits the injured person's ability to earn future income.
Am I Eligible for Workers' Compensation Benefits in Georgia?
If you are wondering if you are eligible for workers' compensation benefits, you are not alone. According to the United States Bureau of Labor Statistics, the rate of nonfatal workplace injuries and illnesses in private industry is approximately 3 cases per 100 full-time workers.
Here are three main criteria that make an employee eligible for workers' compensation:
The injured person works part-time or full-time for an employer required to carry workers' compensation insurance.
The injured person is legally considered an employee of the corporation with workers' compensation insurance.
The injury is a direct result of the work the injured person does on the job.
While these three criteria are relevant to most situations, there are a few extenuating circumstances that it is crucial to be aware of. These include:
While Georgia law requires all employers who employ three or more workers to carry workers' compensation, this does not apply to federal government agencies and certain employers in railroad, agriculture, and domestic service industries.
Georgia workers' compensation law is meant to protect employers from being sued by employees for work-related injuries while also providing employees benefits regardless of who is at fault. However, if an injury results from intentional harm by the employer, an employee may still file a personal injury lawsuit.
If the injury is due to the negligence of a third party – for example, as a result of defective equipment or another driver in a car crash – the injured person may have grounds to sue that party outside the workers' comp system.
It is helpful to consult with a Cumming workers' compensation attorney to determine your eligibility and any extenuating circumstances that may apply to your situation. The skilled workers' compensation lawyers at Weaver Law Firm can answer your questions and ensure your legal rights remain protected.
How Do I File for Workers' Comp in Cumming?
A workers' compensation lawyer in Cumming can help guide you in detail through the process of filing for workers' compensation. Here are some steps you should take:
Report the injury or illness to your employer immediately. This means reporting it within 30 days of the incident or 30 days from the first date that you become aware of your condition.
Seek medical attention. Your employer must provide you with a list of at least six in-network options or a provider to consult for medical help.
Ensure that your employer contacts their workers' compensation insurance provider and informs them immediately about the accident.
Obtain and fill out a copy of the WC-14 form seeking workers' compensation. This can be obtained from Georgia's State Board of Workers' Compensation.
Send completed copies of the form to the relevant parties. This includes your employer and their workers' compensation insurance carrier.
In some scenarios, employers may be reluctant to assist injured employees with workers' compensation because they do not want their premiums to increase. If this is the scenario, make sure to contact the State Board of Workers' Compensation for claims assistance. A qualified lawyer for workers' compensation may help you with this process.
How Our Attorneys Can Help with Your Workplace Injury Claim
Even if you are eligible for workers' compensation, the process for obtaining this type of compensation can be complicated and confusing. That is why it is crucial to reach out to a Cumming workers' compensation lawyer.
Some of the ways our attorneys with an in-depth understanding of workers' compensation legislation can help you with your workplace injury claim include:
Answer any questions about the workers' compensation process.
Ensure that you meet all regulations required with filing a workers' compensation claim to help you get the best possible outcome.
Secure evidence to strengthen your claim, including any medical evidence or records and depositions from physicians, medical experts, and the claimant.
Represent the interests of the injured person at hearings, trials, depositions, oral arguments, mediations, and other proceedings.
Assist the injured person with obtaining benefits, including medical care and income replacement.
Communicate with the injured person's supervisors about the status of their injury.
Negotiate settlements for the claimant.
In some cases, the insurance company may reject a workers' compensation claim. Reasons for this could include the insurance company claiming the injury is not work-related or a serious injury. They may also claim that the employer is faking the injury or that the worker was drunk or on drugs. If the insurer accepts the claim, they may try to get away with paying out less than what the claimant deserves.
In these scenarios, a workers' compensation attorney can work to appeal denied claims or underpaid benefits to seek the benefits that the injured employee is entitled to.
When a workers' compensation claim is denied, the injured employee has one year from the date of injury to begin the appeals process. The first stage of appeals usually involves a hearing by an administrative law judge. If benefits are denied again, the claim can go before a Superior Court judge, a state Court of Appeals, or even in some cases, the Georgia Supreme Court.
Throughout the process, it is important to have the support of a skilled lawyer.
Contact a Workers' Compensation Lawyer in Cumming
If you have been injured on the job, contacting a Cumming workers' compensation lawyer is an important step to have your questions answered and protect your rights. Navigating the workers' compensation process can be overwhelming, and too often, insurance providers and employers try to avoid providing injured employees with their entitled benefits.
The workers' compensation lawyers at Weaver Law Firm work with employees who have been injured on the job to pursue the money that they need. Reach out to us for a free consultation today.