Motorcycle Accident Attorney in Cumming, GA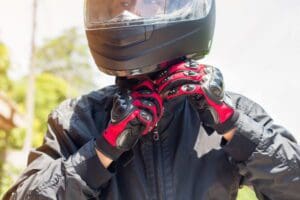 Were you injured in a motorcycle accident in Cumming, Georgia? If so, you could be entitled to recover compensation for the financial and personal losses you incurred due to the accident.
If the motorcycle crash was due to someone else's negligence, you deserve the chance to hold them accountable for their actions. The Cumming motorcycle accident attorneys at Weaver Law Firm can help you seek maximum compensation for severe injuries and all the expenses related to the crash.
Contact us today for a free consultation with a personal injury attorney to discuss your case and evaluate your legal options.
What Our Motorcycle Accident Lawyers in Cumming Can Do for You
Motorcyclists have little to shield them from harm in the event of a crash. If you suffered serious injuries in a motorcycle wreck, you could be facing steep medical bills as well as lost income if you're unable to work. In addition to the financial burden of the accident, navigating the time-consuming claims process when you're hurt can be challenging.
That's why it is crucial to consult with an experienced motorcycle accident lawyer as soon as possible after a crash. The seasoned motorcycle accident lawyers at Weaver Law Firm will handle every facet of your injury case for you, so you can focus on recovering from your injuries and getting your life back on track.
If you hire us, we can:
Conduct a thorough investigation into the accident
Collect and preserve evidence to back up your claim
Document and calculate your losses
Identify the at-fault party or parties involved
Handle all communications with the insurance adjuster
Negotiate for a settlement with the insurance company
Take your case to trial, if necessary, to fight for fair compensation
Our attorneys work on a contingency fee basis, which means we will never collect legal fees upfront. Instead, we collect our fees only if and when we secure compensation for you.
Why Choose Our Motorcycle Accident Law Firm?
The motorcycle accident attorneys at Weaver Law Firm have a lot to offer, including:
Locations in Cumming, Gainesville, and Murrayville
20 years of experience serving Georgians
A team of lawyers that is communicative and always available to speak with you
Dedication to exemplary service
A network of expert physicians to help injured motorcycle accident victims
We offer a free case evaluation 
Who Is at Fault for a Motorcycle Crash in Cumming?
Determining fault for a Georgia motorcycle accident isn't always straightforward. In general, to prove someone is at fault and liable for your losses, you need to demonstrate that they were negligent and that their negligence led to the crash and your injuries.
For example, if the person responsible for the crash was distracted by texting, ran a red light while you were legally crossing an intersection, and crashed into you, the motorist was clearly negligent, and the fact that they were distracted by the phone directly contributed to the accident.
You will also need to show that you suffered losses. For instance, if you were thrown from your bike and sustained broken bones and road rash, you will likely incur some hefty medical costs. Medical expenses are a kind of financial loss.
Depending on the circumstances of the crash, the at-fault party might try to resist accepting liability. Their insurance company will probably also try to find reasons to reduce or even deny your claim to avoid paying you. That's why you should speak with an attorney as soon as possible after the accident, so they can start building a case to protect your rights.
Common Types of Personal Injuries in Motorcycle Crashes
Motorcycle accidents tend to result in devastating injuries. Unlike drivers in passenger cars and trucks, who can rely on safety features like airbags and seatbelts for protection from the force of an impact, motorcyclists typically bear the brunt of a collision. They have little in the way of protection, save their helmet and clothes.
Some common types of common motorcycle accident injuries include:
Traumatic brain injuries (TBIs)
Bone fractures and broken bones
Back injuries
Joint damage
Spinal cord damage and paralysis
Whiplash
Cuts, scrapes, and lacerations
Road rash
Burns
Internal injuries 
What Compensation Can Be Recovered in a Motorcycle Accident Claim?
If someone else's negligence caused the accident, you have the right to file a motorcycle accident case against the at-fault party and their insurance company. You might be able to recover compensation for losses such as:
Medical expenses
Lost wages
Lost earning capacity
Pain and suffering
Property damage
Punitive damages, in rare cases
A motorcycle accident attorney can help you determine which types of compensation you are eligible to claim.
What to Do After a Motorcycle Accident in Cumming, GA
Several steps you should take immediately following a motorcycle accident to help protect your rights include:
Call 911. You should call the police to the scene. Police officers will create an accident report containing information vital to your insurance claim.
Collect information and evidence. Be sure to exchange contact information with the driver of the vehicle that hit you. If you can, also collect evidence before you leave the accident scene. Take photos of your injuries and the damage to the vehicles. If there are any bystanders nearby, you should ask for their contact information. They might be able to provide a witness statement to bolster your claim.
Seek medical attention. If you don't receive emergency medical care at the crash scene, you should seek medical treatment as soon as possible. The shock of a crash can mask symptoms of many potentially serious injuries.
Take notes about your recovery. You should keep a daily journal tracking your physical and psychological condition. That will help your attorney quantify losses for pain and suffering.
Stay off social media. Avoid discussing the accident on social media or in any online public forum. The insurance company could potentially take anything you say, twist it, and use it against you.
Lastly, it is essential to consult with an experienced Cumming motorcycle accident lawyer. Our skilled attorneys can build the best possible case on your behalf to help you pursue full and fair financial recovery.
Contact Our Motorcycle Accident Lawyer in Cumming, GA
If you were hurt in a motorcycle accident in Georgia, contact the Cumming, GA, motorcycle accident attorneys at Weaver Law Firm today to get started on your claim. We're ready to listen to your story and help you pursue the best path forward.