Cumming Drunk Driving Accident Attorney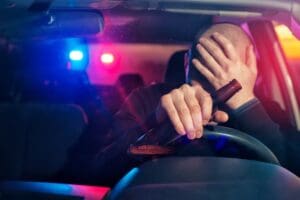 Most people in Georgia understand that they shouldn't drink and drive, yet drunk driving accidents continue to take thousands of lives every year in Georgia and across the United States. The National Highway Traffic Safety Administration (NHTSA) reports that more than 10,000 people died in drunk driving accidents in just one recent year. Thousands more suffered severe injuries.
These crashes were preventable. When a person chooses to drink and drive, they engage in reckless behavior. And when they cause crashes, they can be held accountable and financially responsible for their choice.
If you've been injured in a drunk driving accident, the Cumming, GA car accident lawyers at the Weaver Law Firm can help you put your life back together. We can help you pursue a personal injury claim to demand the money you need to cover your medical bills, lost wages, and other expenses caused by a drunk driving accident.
Over more than two decades, we've helped our clients recover millions of dollars. To learn more, contact our office for a free initial consultation.
The Consequences of Drunk Driving
The consequences of drunk driving in Georgia are often severe. Both the drunk driver and other accident victims can suffer physical injuries, psychological harm, and even death. Drunk driving accident victims are often stuck with thousands of dollars in medical bills and weeks or months of missed work while they heal.
Drunk drivers can lose their driver's license and face heavy fines and even jail time. At-fault drivers who face criminal consequences can also experience civil and financial consequences through a personal injury claim.
How Can a Cumming Drunk Driving Accident Lawyer Help Me?
Under Georgia law, drunk driving crash victims can file a personal injury claim against the person liable for their injuries. This allows accident victims to recover financial compensation for their losses, which can make it easier to pay for related medical treatment and their living expenses.
Here are a few ways that the Weaver Law Firm drunk driving accident lawyers can help with your claim:
Investigating the accident to determine who's liable for your injuries
Gathering evidence to support your claim for compensation
Filing your claim before the deadline instituted by Georgia's statute of limitations
Speaking with insurance companies on your behalf to maximize your potential compensation
Negotiating for a full and fair settlement offer
Filing a civil lawsuit if the drunk driver and their insurer refuses to pay a fair settlement
Who Can Be Held Liable for a Drunk Driver Crash?
Generally speaking, the drunk driver is liable for any drunk driving accident since they chose to break the law by drinking and driving. That said, there are some cases where another party may be partially liable. For example, if a mechanical defect contributed to the accident in some way, the manufacturer of the vehicle or defective part could be partly responsible for your injuries.
Georgia's dram shop laws also allow drunk driving accident victims to hold a bar, restaurant, or another alcohol-serving establishment liable for a crash caused by overserving the drunk driver. To recover compensation from an establishment under these laws, you and your lawyer must demonstrate that the establishment served the customer despite being noticeably intoxicated and about to drive. Bars and other liquor establishments can also be held liable for a crash when they served alcohol to a minor.
Compensation After an Accident Caused by an Impaired Driver
By filing a personal injury claim against the drunk driver and their insurance company, you may be able to recover compensation for:
Medical bills related to the crash
Lost wages
Reduced capacity to earn a living
Pain and suffering from your injuries
Damaged personal property
Speak to our Cumming, GA drunk driving accident lawyers to find out how much your claim could be worth.
Common Injuries Caused by Drunk Driving Wrecks in Cumming, GA
Here are a few examples of the most common injuries caused by drunk driving accidents:
Traumatic brain injuries
Spinal injuries
Organ damage
Amputations
Spinal cord injuries
Whiplash injuries
Soft-tissue injuries
Burns
Broken bones
Neck and back injuries
Disfigurement 
Severe lacerations and bruising
Psychological trauma (such as depression, anxiety, and suicidal thoughts)
Drunk Driving Settlements & Trials
Most personal injury claims, including those related to drunk driving accidents, settle out of court in an agreement between the drunk driver's insurance company and the injured victim. The amount you may be able to recover in a settlement depends on the extent of your injuries and other losses, the available evidence to support your claim, the amount of available insurance coverage, the quality of your lawyer, and other factors.
Signing a settlement agreement generally requires you to give up your right to sue the drunk driver for additional compensation. That's why it's critical to review the offer carefully with help from an experienced lawyer.
A settlement guarantees you a certain amount of money without the risk of a trial. But settling too soon or without accounting for your total losses could mean you get less than you deserve. Your lawyer will advise you whether a settlement is fair or if a trial is a better bet.
Sometimes an insurance company refuses to negotiate in good faith, and a fair settlement agreement can't be reached. If this happens, a trial may be a good choice. Trials have no guaranteed outcome, so there's a risk you leave with nothing. On the other hand, sometimes, a trial is the only path to the compensation you need and deserve. Hiring a knowledgeable, experienced lawyer makes it much more likely you'll succeed in getting the money you need through a settlement or trial.
How Long Do You Have to File an Accident Claim?
In most drunk driving accident cases in Georgia, you have two years from the date of the crash to file a lawsuit. If you miss this deadline, the court will almost certainly dismiss your claim, and you would be unable to recover any compensation for your injuries. That's why contacting an attorney as soon as possible is crucial.
Contact Our Experienced Drunk Driving Accident Attorneys Today
The drunk driving accident lawyers of the Weaver Law Firm have what it takes to help you pursue fair compensation after a drunk driving crash. Get a free initial consultation today by contacting our office in Cumming, GA.