Bicycle Accident Attorney in GA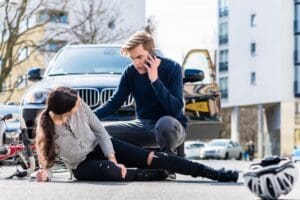 Bicycles are convenient and environmentally friendly options for many Georgians who want a reliable mode of transportation or to get some exercise. With nearly 3,000 miles of bike routes and greenways, it's no wonder cycling is a popular recreational activity throughout the Peach State.
Even though state traffic laws provide the same rights and responsibilities to cyclists as other road users, bicycle accidents are still sadly common. The Georgia Department of Transportation reports hundreds of bike accidents every year, with 77 percent of them resulting in significant injuries.
If you were harmed in a Georgia bicycle crash, a bike accident lawyer can help you seek compensation for your injuries. Contact the bicycle accident attorneys of Weaver Law Firm to learn more in a free consultation.
Causes of Bicycle Accidents in Georgia
A bike is no match for a vehicle weighing several thousand pounds, so most cyclists know to be extremely cautious when sharing the road with motorists. Unfortunately, even the most cautious cyclist could still be severely harmed or killed if a motorist is negligent.
Common causes of Georgia bicycle accidents include:
Distracted driving – Drivers who are engrossed in distractions may cause accidents if they fail to notice cyclists on the road or plow through red lights or stop signs at intersections without slowing down.
Impaired driving – Alcohol and drug use can compromise visual awareness, depth perception, judgment, motor skills, and reaction time. Impaired drivers are far more likely to overlook cyclists or fail to act quickly enough to avoid accidents.
Drowsy driving – Studies suggest excessive fatigue can be just as dangerous as drunk driving. Drivers who are too bleary-eyed to detect nearby cyclists may drift into bicycle lanes or fail to yield the appropriate right-of-way.
Aggressive driving – Speeding, running red lights or stop signs, tailgating, and otherwise failing to share the road are all forms of aggressive driving that can severely injure or kill bicycle riders.
Driving errors – Inexperienced or careless drivers who make driving errors such as improper turns are more likely to collide with cyclists. Failure to yield the right-of-way at intersections is a common driving error that leads to bicycle wrecks.
Poor infrastructure – Lack of adequate road maintenance or infrastructure for cyclists can make roads unnecessarily hazardous, despite the fact that cyclists have the same rights to the road as everyone else.
Most Common Bicycle Accidents
The majority of bicycle accidents are entirely preventable. If drivers watch for cyclists and leave plenty of distance, everyone on the road would be safer. However, the following types of bicycle accidents are still, unfortunately, common in Georgia:
"Left cross" or "right cross" accidents – These crashes occur when drivers fail to notice riders before making left-hand or right-hand turns at intersections and run straight into oncoming cyclists.
"Right hook" accidents – A "right hook" accident can happen when a driver and cyclist are traveling in the same direction, and the driver fails to create enough distance in front of the bicycle before turning right. As a result, the cyclist is struck from the side or collides with the turning vehicle.
Rear-end collisions – A rear-end bicycle collision can occur when a driver follows too closely behind a cyclist. Bicycle riders can be pinned and crushed or thrown from their bikes as a result.
Backing up accidents – When drivers fail to check their surroundings before reversing out of driveways, garages, or parking spaces, they can back up straight into cyclists passing behind the vehicle.
Dooring accidents – If a driver or passenger in a stopped vehicle opens one of the vehicle doors without looking, they can open the door directly into the path of oncoming bicycles. Dooring accidents can lead to severe injuries, sometimes even launching cyclists into the air upon impact.
Types of Injuries from Bicycle Accidents in Georgia
Cyclists lack the same protective features that shield vehicle occupants from the brunt of the impact in a collision. As a result, the following types of Georgia bicycle accident injuries are common:
Traumatic brain injuries
Face, neck, and jaw injuries
Back and vertebral injuries
Permanent scarring and disfigurement
Broken or dislocated bones
Amputated limbs or digits
Spinal cord injuries
Partial or total paralysis
Soft tissues strains, sprains, and tears
Internal injuries and bleeding
Scrapes, cuts, bruises, and burns
Knee and joint injuries
Post-traumatic stress disorder
Can Damages Be Recovered After a Bicycle Accident?
If someone else was partially or fully responsible for the accident that caused your injuries, you might be entitled to recover damages for your losses. "Damages" is the legal term for money awarded to victims in personal injury claims.
With the help of a bike accident attorney, you can establish a solid claim to prove the other person's liability and demand the compensation you need. This could include money to reimburse you for:
Past and future medical costs for treating accident-related injuries
The value of any lost wages from missed time at work while you recover
The projected value of losses in your future earning potential if you are severely injured and unable to return to your usual job
The subjective costs of the physical pain and emotional suffering you endured as a result of the accident and your injuries
The costs of repairing or replacing your bicycle, if it was damaged in the crash
Does an Auto Policy's UM/UIM Coverage Apply in Bicycle Crashes?
Georgia drivers are required to carry specific minimum amounts of liability insurance by law. Liability insurance covers the costs of other people's medical and property damage bills if the insured is at fault in a crash.
However, not all drivers comply with statewide insurance laws. Even those who do may not have enough insurance to cover 100 percent of the costs associated with injuries or damage after a bicycle wreck.
If you are injured in a Georgia bicycle accident, this is where your auto policy's uninsured (UM) or underinsured (UIM) motorist insurance could kick in to help you. UM, and UIM insurance is optional in Georgia, but they're automatically added to all insurance policies, so you should have them unless you actively opted out.
UM, and UIM insurance is meant to cover your costs after an accident involving a driver with no or insufficient insurance. Luckily, cyclists who carry UM or UIM insurance on their cars can rely on this coverage for bicycle accidents with uninsured or underinsured drivers.
Contact Our Experienced Georgia Bicycle Accident Lawyers for Help Today
If you are struggling with painful injuries and financial stress and strain after a bike accident, let us help you. Contact the skilled Georgia bicycle accident lawyers at Weaver Law Firm to get started with your free case review.